Indeed, what a performance! A man wanders onstage, reads a newspaper for a bit and then wanders off. A gimp-like thing in a black bodystocking and silver cape ballet dances around the band who by now have shifted into some delicious if rather camp early 80s style electropop. Where do we go from here?


Incendiary do the OFF FESTIVAL: Slupna Park, Myslowice, Poland, 08/09/08 Part 1
Friday 08/08
Just a short train ride from the beautiful city of Krakow, where every corner turned reveals some stunning architecture or a lively jazz bar; is the rather less beautiful city of Katowice. Mostly made of concrete, its best described as functional. It boasts a ladies' clothing shop called Troll and a tattoo parlour called Rectum, so it's little of a surprise to us that precisely nobody here speaks English. This is possibly how Incendiary manages to get utterly fleeced by a taxi driver taking us the short distance to Myslowice, whose Slupna Park will for two days be home to OFF Festival.
Although as we will spend the next two days watching a lot of excellent music and drinking a frightening amount of rather too fizzy beer for very little money indeed, it's not really a problem. Getting into the festival, however, might be. Our access has been kindly arranged by British Sea Power's management, but none of the information tents seem to know what to do with us. Eventually we are sent to the artists' entrance, and they're none the wiser. Someone goes off to find someone higher up. He goes off to find someone higher up still. A few raindrops start to fall. Right, let's stand under this tree… at which point a massive flash of lightning cracks the sky, followed rather too quickly by a very large thunderclap. The drops become a deluge, then the next thunder and lightning are almost simultaneous; as we contemplate the possibility of ending our days fried and welded to a Polish tree, a man comes running over and beckons us through a gate behind which there are umbrellas, a bar, a barbecue – and three VIP wristbands.
Beer then? Cheers. The weather is by now doing a passable impersonation of Niagara Falls, thus your roving reporter and companions spend our first couple of hours acting like professional music journos, ie. getting pissed under a big brolly in the blagger's enclosure and not watching any bands at all… Eventually the downpour abates to a tolerable drizzle and we head off to see what's on the main stage. Which transpires to be a bloke wearing florid tights, turquoise pixie-boots, a silver netting jacket and a dashing-highwayman moustache. This is the not exactly shy and retiring Kevin Barnes, singer with OF MONTREAL, whom I believe are best described as "avant-garde".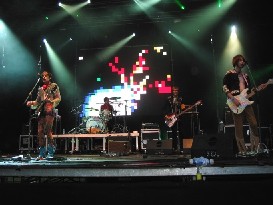 Of Montreal
Oh god, there's Sparks in there, Bowie, Maximo-spec quality post-punk mixed with Beach Boys via Shins melody, and… performance. Indeed, what a performance! A man wanders onstage, reads a newspaper for a bit and then wanders off. A gimp-like thing in a black bodystocking and silver cape ballet dances around the band who by now have shifted into some delicious if rather camp early 80s style electropop. Where do we go from here? Well, two masked men appear either side of Barnes, dance around him a little, then sit him down and shave off the moustache. Expressions in the front rows of the crowd are all somewhere on the line between confusion and delight. Are they any good? Does it fucking matter? They make 98% of indie bands look very, very boring, and by their final new romantic prog epic they have blown my head off. By this point the VIP toilets have flooded, so we're motioned upstairs into the lavishly bouquet-strewn hotel which is acting as the backstage and press compound. Yep, things have got very surreal, and it's only about eight o'clock.
The second stage is in a stunning clearing with trees on all sides; as the sun sets it feels like the sort of darkly enchanting grotto where you're half expecting creatures from Lord of the Rings to appear, and thus a fine setting for one of the very small number of English bands at the festival – Liverpool's perennially strange CLINIC. Still partially concealed behind their trademark surgical masks a good ten years into their career, they've existed on the fringe of the fringe, loved by their devoted fans and largely consigned to "oddball" status by everyone else, not unlike our beloved British Sea Power – only even more so. The singular furrow they plough during a relatively short set contains an odd mixture of vintage organ garage rock and psychedelic indie, but it's the Krautrock-toned early(ish) single Walking With Thee which sends the crowd into chanting, dancing delight.
Time to check out the Offensywa Stage then; an indoor marquee which is rammed front to back. The attraction? The delightfully named DICK4DICK, Gdansk's premier sexually ambiguous electro-glam rock'n'rollers. Who go by the individual names of Bobby Dick, Dick Dexter, Nygga Dick, Wet Dick Jr and Rocky the Dick. "They're a lot like Katowice" muses Mark, "old school but trying to drag itself up to date." Nick meanwhile thinks they sound like The Scissor Sisters covering Motörhead. I can't remember if this is actually true, but it sounds good anyway.
Back on the main stage, HEY! were, apparently, one of Poland's biggest bands in the 90s selling millions of albums, but their alternative-end-of-mainstream female-fronted powerpop-rock doesn't do much for us. It's raining again, its two hours till Mogwai, it's been a long day today with a longer one ahead of us tomorrow and we have no idea how we're getting back to Katowice; we wander down to the main road to check out the taxi situation and when one appears almost immediately I'm afraid Mogwai don't stand a chance. It costs about half what we paid to get here. Hmm.
Saturday 09/08
Saturday comes and we are determined not to get fleeced by any taxi drivers. The minibus in the station car park says Myslowice on the front; we approach the driver and on spying our prominently displayed wristbands says "Slupna Park. Ja." We hold out a handful of zlotys from which he extracts a very small number. Yep, we've gone native. Time, then, to check out some of the unsigned bands opening the various stages.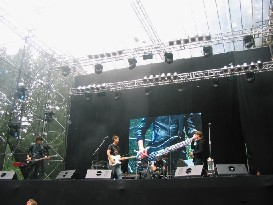 Broadway Taxi
In the wooded clearing, Lodz's BROADWAY TAXI have a powerful bass-heavy and oddly Northern English post-punk indie-rock sound taking its cue from The Chameleons, probably via Interpol although there's a bit of Mary Chain dirt in there as well. Meanwhile over on the Offensywa Stage, Warsaw-based ROTOFOBIA are young and very popular with the girls at the front, who are chanting their name before they even come onstage – possibly due the extremely cute overgrown bowl-cut which sits atop skinny singer Sebastian B. Again, they possibly have some Interpol records, but this is a much more upbeat and pop-inflected sound with a big electro thing going on there too. Things get really exciting on their last track which is this amazing electro-industrial post-rock disco monster, full of shredding noise and distorter mic vocals.
THE POISE RITE are one of the few contemporary Polish acts to have played in the UK with a Glastonbury appearance to their name; a little research reveals they have now pretty much relocated there – to Kent, of all places. Sadly they're not a patch on the last two bands: three serious looking men in black, their particular take on dark-edged indie rock is more in an Editors vein. Which is to say competent, but somewhat on the dull side; a decent sound but the tunes themselves tend to plod a bit.
BAJZEL is one bloke, one guitar, a drum machine and a lot of samples and electronics, which he triggers in real-time to produce an edgy and disparate sound incorporating US alt-noise, big-beat funk and dirty garagey rock with the odd bit of bouncy dub indie – and sounds like there are about six of him. He's pulled a pretty big crowd but this may well be partly due to people wanting a break from the mud and intermittently spitting rain. The sun's definitely trying to come out but it could yet go either way; he starts to get boring fairly quickly so we head out to check out the food. At which point the heavens open again, leaving us trapped under the awning of a food stall – not a disaster, then, except for the fact we have no idea what anything is and wouldn't know the word for it if we did. Lard on toast and mystery meat on a stick seem to be the snacks of choice; "Frytki" might be chips, right? Good guess. We can hear Karpaty Magiczine & The Band Of Endless Noise over on the main stage; we'd planned to see them and their Krautrock flavoured psychedelia does indeed sound pretty good, but we're dry, fed and we've learnt a useful word of Polish.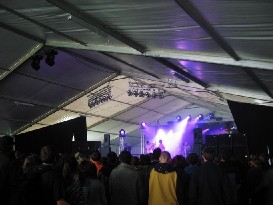 Renton
Back in the Offensywa tent, girls are screaming. The objects of a terrifying amount of hormonal desire? Renton. Not the Trainspotting character, although the short hair and T-shirts on skinny frames suggest the punk-pop foursome could be named after him. That's punk-pop as in, I dunno, all those sub-Green Day bands of a few years ago with numbers in their names. Inoffensive but rather lacking in the firepower promised by the guide book – but what do I know? They make girls scream; a couple even crowd-surf (generally a boys' sport back home) and the tent's bouncing along with the ecstatic young crowd.
For part two (reminiscences of Iron Curtain dealings and BSP's introduction to Polish pop cultcha) you can click here