As ever, with Akron/Family, this year does deserve to be theirs. Set 'Em Wild might not live up to Love Is Simple, but then very few albums could.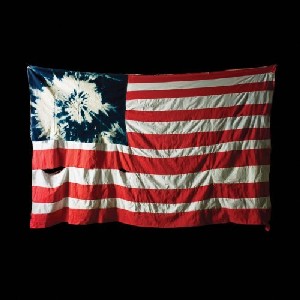 Akron/Family – Set 'Em Wild, Set 'Em Free
(Dead Oceans) http://www.konkurrent.nl/
Clanking cowbells, an organ warming up, and then a surprisingly funky riff. This is how Everyone Is Guilty, the album opener, starts off. It's Akron/Family's first album since the departure of core member Ryan Palmer Vanderhoof and difference, whilst not immediately apparent, becomes noticeable as the album progresses. It's certainly not obvious as the funky guitar gives way to a basic beat, and some chanted vocals. As the track progresses so the guitar takes over, with some muscular solos flaring over the beat. And then suddenly they cut out, and we're back to a seventies style funk rock track, replete with violins and flute.
River is probably the standout track. It fits in with the recent mining of afro-beat and all things Nigerian, but it manages to still sound like an Akron/Family song, in part thanks to military drumming and whistling. It's the sort of thing that the band does so well: simple, joyous and slightly odd. Creatures rumbles menacingly, discordant electronics interrupting its basic riff. About half way through it turns into a Tortoise track, bass reliant, slightly jazzy, with brass interventions. The Alps & Their Orange Evergreen opens with chirruping crickets and a picked acoustic guitar. What emerges is a gentle folk song with a sweet chorus. Once the chorus is repeated violin, brass, and backing vocals join the plucked guitars. Set 'Em Free, Pt. 1 continues the country/folk vibe with steel guitar fleshing out a simple and affecting song.
Flutey noises kick off Gravelly Mountains of the Moon before weary brass and out of tune vocals join in. The hushed tones of the opening don't last, however, as the song turns into an almighty racket after a couple of minutes. Chanted vocals battle it out with discordant guitars, pounding drums and blaring brass. As a racket it is still nothing compared to MBF, a three minute thrash that places them firmly in Wolf Eyes territory.
It is over these central tracks that the difference with the new three piece version of Akron/Family emerges. On earlier albums the band managed to juggle all their influences and interests within the songs. Each song could be beautiful and noisy, jazzy and folky, and so on. On Set 'Em Wild it seems that there has been something of a split with some songs being basic country / folk, and some being noisy thrash fests. It may have nothing to do with the departure of Vanderhoof, but it is a noticeable difference.
The album winds down towards its close. Sun Will Shine sounds like a pastoral Spritiualized track at first, before it slides into the sound of a brass band falling apart. Last Year is a simple and affecting closer – just voice and piano with a repeating refrain:
"Last Year was a hard year for such a long time, this year's gonna be ours."
As ever, with Akron/Family, this year does deserve to be theirs. Set 'Em Wild might not live up to Love Is Simple, but then very few albums could. They are still light years ahead of most of their contemporaries, writing songs with a freedom and passion that most can't even pretend to come close to.
Words: Chris Dawson