a beguiling box set that is a joy to hold in itself and an absolute pleasure to spend some time with
a beguiling box set that is a joy to hold in itself and an absolute pleasure to spend some time with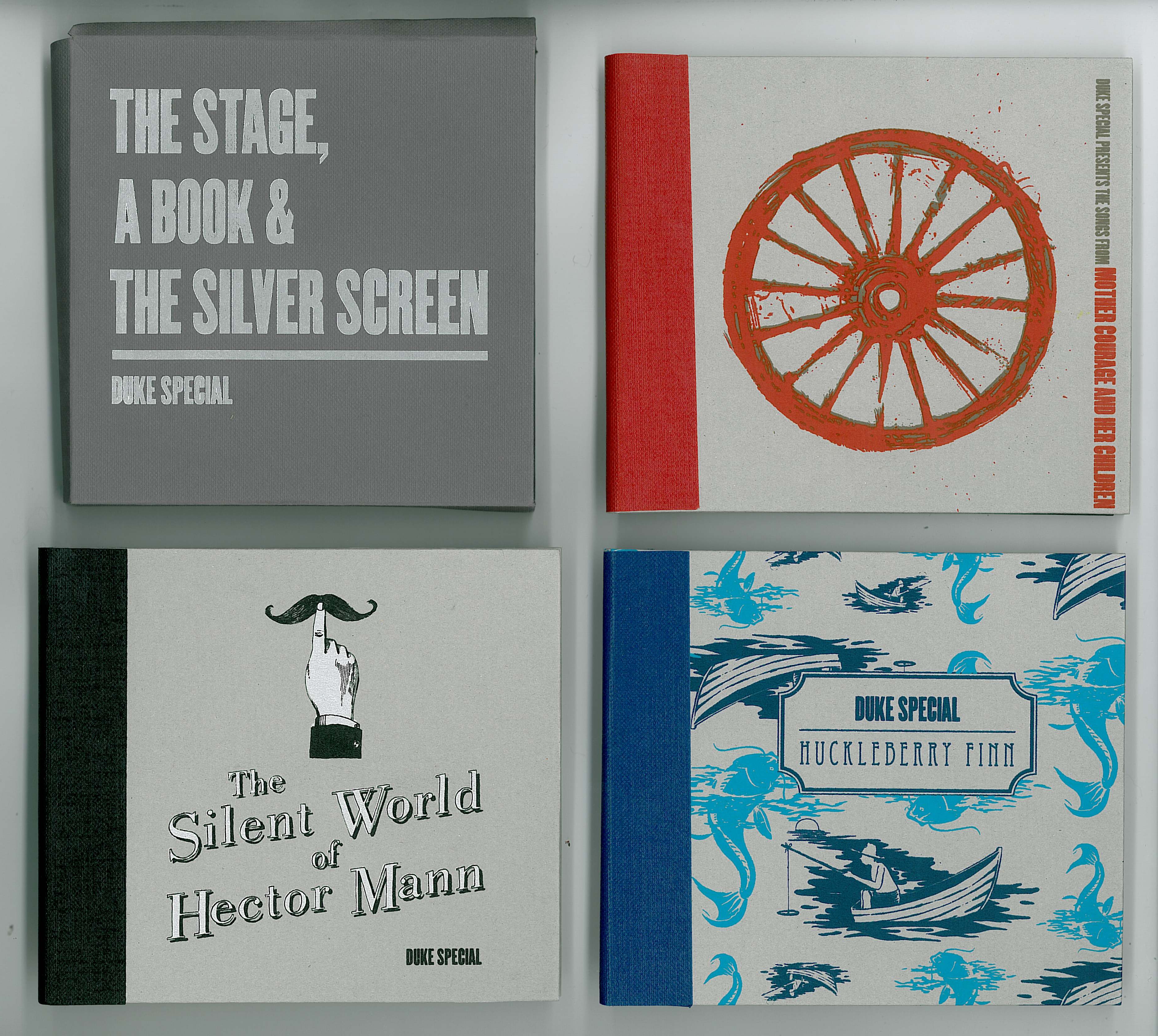 And now for something completely different. Oh yes, it's time to welcome you back, one and all, into the wonderful world of Mr Duke Special who is currently showcasing not one, not two but three carefully crafted, intricately arranged, beautiful pieces of work for you to wrap your ears around. The Stage, A Book and The Silver Screen is three separate projects, lovingly packaged together into a beguiling box set that is a joy to hold in itself and an absolute pleasure to spend some time with.
The Stage refers to a studio recording of the music Duke created for Deborah Warner's production of Bertolt Brecht's play Mother Courage and her Children at The National Theatre in London. Duke Special found himself well out of his comfort zone with this project but rose to the task manfully, if this is anything to go by. It'll be hard to review this as the soundtrack to a play – as I haven't seen, nor read any version of the play – and therefore it's difficult to judge this effectively as a piece of theatre but as a piece of music the album is incredibly deep and affecting. Darker in tone to most of his previous output, the strength comes from the solid and harsh string and horn movements but there's still enough of the jolly charm and playfulness we've come to expect from Mr Special floating above them, creating an interesting conflict of tone throughout. Eilif (Song About the Soldier And His Wife) is a prime example with its laid back, almost rag-time verses colliding into harsh, scything horn sections throughout. It's an impressive piece of work, nostalgic in its use of instruments but totally modern in its arrangement. It's Duke Special in a nutshell. They certainly don't make them like this very often. I'd love to see a performance of this live, to appreciate the total effect.
A Book refers to Mark Twain's classic Adventures of Huckleberry Finn. Well, actually it refers to Kurt Weill's unfinished musical version of the story. Weill died in 1950 leaving behind five songs which have laid unrecorded, until now. The results are fantastic! River Chanty drones itself awake, like a lazy sun warming the day, then a piano twinkles footsteps over the top of a sweeping string section, tip tapping a rhythm that suggests the "whispering, easy river." The song winds itself up in a gentle waltz before dissolving into whispered vocals and a lovely, fading droning ending. It's a hell of scene setter.
Come In, Mornin' seems destined to be sung to children by loving parents for time eternal, it has such a gorgeous, lullaby feeling to it. This Time Next Year is a slow jazz number that makes me think of 20's Chicago more than a lazy float down the river but it's still a delight. Apple Jack and Catfish Song are the two reasons you need to get a hold of this though. Catfish Song hints to the friendship of Tom and Huck with its dual vocals and is as playful as a kitten with a ball of wool. From its toe tapping piano beat through to the adorable clarinets it's a song that is pure, unadulterated joy. Saccharine sweet and effortlessly charming, it's a real treat you simply won't be able to ignore. And Apple Jack, well, Apple Jack is extraordinary. It has the same kind of playful tempo that Catfish Song builds itself upon but here everything is turned up to eleven. Strings scream, horns bellow, bells chime and it all builds up and up to a point that you simply can't resist. The lyric is wonderfully entertaining and if you can get the chorus out of your head in less than a week then you're doing better than me. It's a sensational song.
Special's unearthed a real gem here and does Weill's memory proud. It may only be a five song EP but this alone is one of the releases of the year, without a doubt.
Finally, there's The Silver Screen, which refers to The Silent World of Hector Mann, the final piece in this wonderful jigsaw of a box set. Inspired by Paul Auster's Novel 'The Book of Illusions', which examines the mysterious disappearance of Hector Mann, a famous silent movie actor who simply vanished when the talkies arrived. Duke wrote the eloquent Mister Nobody, a song about Mann based on the title of one of his films. Pleased with the outcome, Duke Special then invited 11 songwriter friends (including Neil Hannon and Ed Harcourt) to each pen a song in a pre-rock and roll style inspired by one of Mann's silent films. Duke recorded the finished songs in a mere three days with Steve Albini in Chicago and the resulting album is wonderful.
Hearth and Home has a jaunty vein running through it as well as a kind of Cole Porter-like delight in its language and sets the scene nicely but the admission price is justified alone by Neil Hannon's Wanda, Darling Of The Jockey Club. A delightfully witty, slight affair which Special delivers in suitably theatrical style. If you've never had a Gin Sling in your life, you'll want one after this and you may well find yourself doing the Charleston round the living room like a right idiot if you're not careful. The Tango Tangle suggests you attempt another ballroom discipline and is one of those real love it or hate it moments. It's probably far too pretentious for many ears but there's a cheeky charm to it that pulls it through. The rest of the album is slightly more somber although still fascinating and ultimately, this strange little experiment has paid off handsomely.
Each release is worthy of your attention but getting your hand on all three at once? Duke Special's just spoiling us. Don't let this gem of a package pass you by.