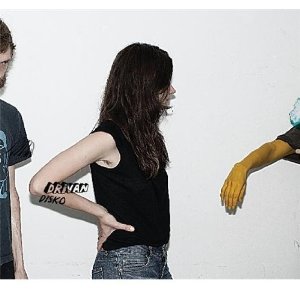 http://www.smalltownsupersound.com http://www.myspace.com/drivanband http://www.konkurrent.nl
A nice, reflective, insular LP, the quiet samples and dreamy vocals on Som en Läderlapp are not the first noises you'd immediately associate with a disco platter that's for sure. There are some beautiful harmonies on the record, listen to the bubbling guitar runs and squelchy beats that combine to haunting effect on Inget Mer Sen, though like a lot of the tracks on the record, it fades into inconsequence by the end.
There's also the feeling of a country school classroom: for some reason this LP has the feeling of small children studiously building panoramas from egg boxes and twigs on the nature table (such as the jaunty Kämpa or the assembly sing-along of Allt man Vill). Campingvagn is a daft school trip song to all intents and purposes, hip-hoppy beat or not.
Sometimes the LP does dust itself down and shake some rug; Lät det Va is a definite highlight, a slightly woozy, beat-laden thing that sounds like some morning-after the night before lament. It's messy fun. As is its immediate successor, Der Gör Ingenting, which is a piano led-thump boasting a beautiful ever spiralling melody.
But mostly it's a very quiet, pastoral affair and one that could pass you by if you don't pay attention.