You can't help but love tripped out, perverted Kraut nonsense like How I Roll, Tropical Rain or Heartstrong, (the noises in this latter track sound like a randy penguin.)

You can't help but love tripped out, perverted Kraut nonsense like How I Roll, Tropical Rain or Heartstrong, (the noises in this latter track sound like a randy penguin.)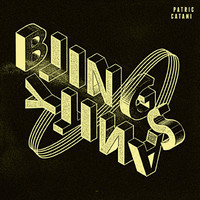 (Keep It Business)
What a record Blingsanity is. Though I've heard similar things many times before, it's a record that is packed full of ridiculously good, fun music. That it's also tough and focussed, and driven on by its own inherent, in-built confidence is also a plus point. Before I start to come out with any more clichés worthy of a business motivation manual I should point out that it's ALSO daft as the proverbial brush. Phew… Got all that down?
As I've hinted, it's not ground breaking stuff, you probably won't hear things that will open new vistas for you. Rather it's a record that has the potential to lay on so much fun. Lithuanian Roots is a playful, gloopy thing; daft weepy synths sounding like a Swanee whistle (or a very lovesick Theremin) combine over a bristling beat. And I wonder if the druggy, Cluster-esque plod of Family Circus is a daft take on audio language learning. On The Radar is a brilliant skip; mashing up a sort of glitchore ska rhythm with phased out sounds and a daft melody line. Head of the Enemy sounds like a beefed up Money Mark track, too. It's worth pointed out that there's a fair bit on Blingsanity that sounds like a charming, Dinky Toy / glitchy take on some of the attitudes in the Beastie Boys' Check Your Head or Paul's Boutique. Or maybe another view on Barry Adamson's louche soundscapes. Or (now I'm on a comparison roll) a bit like what's being released on Smalltown Supersound. All this is not meant to be derogatory at all. All of this means it's good shit, amigos.
As I've said, it's fun, fun, fun. You can't help but love tripped out, perverted Kraut nonsense like How I Roll, Tropical Rain or Heartstrong, (the noises in this latter track sound like a randy penguin.) Poor Boys is another gloopy wobbly thing, happy to potter about with some low register synth blurts for company. The whole record seems set to soundtrack some daft personal world at this point, though Dreadlock Medusa is a real earworm, and possibly the moment where Catani wanted to shake off the feeling that everything was just fine and groovy. The track's (inevitable given the title) dub feel is offset by some incredibly jarring ravey synth textures. It's brilliant. As is the title track which is a great, easy going dance track that thuds along with some verve.
Fine stuff to put a smile on your face that's for sure.