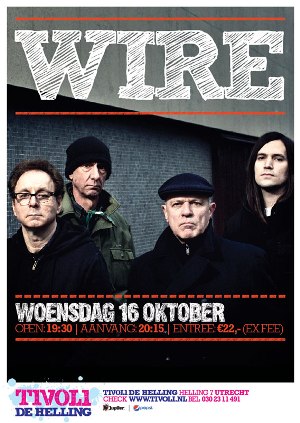 Tivoli De Helling is quite a trek, involving negotiating a plethora of diversions and intersections as well as a brisk half hour walk from the middle of town, (plus it always seems to be raining when I go) but it's worth it. I've never seen a bad gig there. Nice staff and sound too. The fact that it's stuck incongruously behind what I think is a car showroom on a mini industrial estate only adds to its "urban charm". Incendiary were here to see Wire and happy to see that the new and marvellous King Champion Sounds were supporting, promoting their wonderful new LP.
At first I thought we were in for a damp squib, as there were about 20 people mooching about – of which I was plainly the youngest – which, I may add, is quite something to note nowadays. Things improved rapidly on the numbers score though; I still can't get my head round this trick the Dutch have of turning up just on time, sometimes it seems as if a crowd multiplies threefold in the blink of an eye; and certainly my fears of 20 or so hardy, gnarly souls watching King Champion Sounds were dissolved when I looked round again; the room being pretty packed. Phew.
I say phew because King Champion Sounds are fantastic. They deserve an audience in their home country, they really do. They're fantastic for three main reasons, which I'll list for you now. Firstly they have real presence and authority; there's a really easy charm about them on stage and they look natural as a band, which, for a seven piece (horns, drums singer, 2 guitarists, and bass) is not easy. In fact at times they look cheeky, giggling and smiling each other on, which is so nice to see. A lot of the authority comes from ex Ex frontman GW Sok, who acts as a sort of spiritual centre point for the music; he knows his onions and brings this wyrd gentleness to his proclamations. I mean (and I suppose I had better explain myself here) he knows he's fighting a losing battle, he knows his limits in terms of the reach of his particular message, which is at turns impressionistic and shamanistic but he's still hoping you'll listen. And that's very empathic.
What else? Well they have an astonishing sound; a mix of shuddering, rumbling Fall bass lines, clattering guitar patterns and this soothing, affirming soul revue/Dexys feel from the horns. The drummer plays like a young Peter Leopold too; he really could be something else. And my final point? My final point is the songs. The songs are, to use a colloquialism not often heard this side of the North Sea, boss. Anyone who can't enjoy the rattling Here We Go Again or the thunderous World of Confusion must have defective emotional wiring inside the old cranium. Whilst a perfectly enjoyable, often enervating listen by your fireside, they sound massive live, Shouting At The Moon and Shop Drop are marvellous on the night; ringing and huge soundscapes that pick up the room in its entirety. That's their real genius; they leave no one out of their shows. I tell you now; you really need to get onto this band.
So I'm standing at the bar and someone says to me, Wire's songs sound all the same. I disagree. Of course. Actually I think this Wire show at Tivoli was a master class in how to play a show of difficult, thoughtful and often wilfully obtuse music. True there's no set of crowd pleasers – if you were coming to hear Pink Flag stuff you might as well turn tail and go home…. but then I always liked the curmudgeonly side to the band, I think there's a lot to be said for making an audience prove itself. Otherwise why pay the fucking money to come?
I could run through te gig saying, 'and yes lots of new stuff from Change Becomes Us', like Doubles and Trebles and Stealth of a Stork. Adore Your Island was especially great; but then I do like the soft/hard duality of that track and "recent" stuff like Comet and 23 Years Too Late and the odd track off the superb Red Barked Tree such as Please Take (I think they played Please Take) and I think (I think) Two Minutes; the superb sound in Tivoli picking up all the nuances and sharpness inherent in their music. They make subtle music that keeps you on edge. For heritage hunters we got Drill early on, which was great to hear.
But best was the crashing end which (especially with Spent) not only threatened to blow the roof off, but almost had us transporting. Wire's dark heart was revealed; the murky gothic undertones in their music, a future-past Victorian Gothic drama, half heard whispers, metallic shifts of grimy, unguent, music that always alludes to something from another time all started to float to the surface. There's something incredibly old about Wire, they reach back into this other world; there's a palpable sense of The Other, of their ability to conjure up things long forgotten, long laid under the ground. Balance this against their constant reappraisals of their method, of their merciless, ruthless self-examination of their own DNA, and you have an incredibly powerful, exciting and ever relevant music. Simply put they are forward thinking motherfuckers almost locked into a perpetual state of enquiry.
Afterwards a stagger home through the wet streets of Utrecht, a delayed train and a sort of Febo shame moment which we won't go into here. But, who cares, what a gig!