In fact some of the best things out in NL this year were the collaborations (DNMF top of the pile by a mile) and the reissues.
In fact some of the best things out in NL this year were the collaborations (DNMF top of the pile by a mile) and the reissues.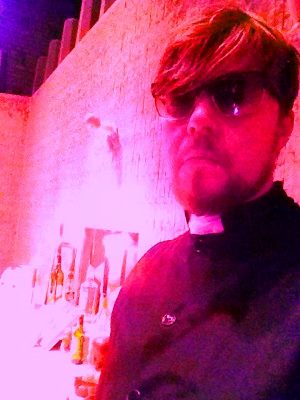 Here are some unholy orders.
I like lists. And I don't get hung up about telling you what I like. I also don't expect you to bother. Take this, then list lovers; Incendiary's favourite LPs and gigs and other things besides from 2014.
A fair number of things I liked in 2014 don't get reviewed on the site; often because there seemed no point; Incendiary has never been a site that wanted to 'cover all bases'. We're not important enough for one, and anyway just how many reviews of Sleaford Mods, Scott O))) or Neubauten do you need? Others do that sort of thing much better than us. Though I really wish I'd got round to reviewing the Gudrun Gut / Hans-Joachim Irmler LP as that's magic and deserving of a lot more attention than it got. (Edit, FINALLY reviewed!) And in total contrast to the War on Drugs LP which (although Damian liked it and fair play many do and who am I to say what is good or not) is the MOST BORING RECORD EVER MADE.
So, as ever, an idiosyncratic, personal list based on what's moved and informed me. One thing I notice is the large number of ambient / electronic LPs on my list; there have been some classics this year in that field; especially on Kranky and no I think the best record they've released this year ISN'T Grouper but Anjou…
As regards my take on 'Dutch pop in 2014' well I think it has been a fallow year with a few highlights. I don't actually think there were – outside of King Champion Sounds, Space Siren and DNMF – that many great LPs made in the Netherlands; of course there were some very, very good LPs, but what I mean by great is, LPs that grabbed you and shook you up. That's what I always look for. And despite some fucking great new developments with bands, I'd say the continued crazily prolific work of Drvg Cvltvre, and Rats on Rafts' single Powder Monkey knocked most other things in the Netherlands into a cocked hat (in my very humble opinion). In fact some of the most interesting things out in NL this year were the collaborations; DNMF top of the pile by a mile and Shivers', and the reissues; Mick Ness, Mecano, (a hybrid work of old & new) and the Andre Saint Oban reissue, all great. I wish I'd had time to listen to the new King Ayisoba record too, I think that would have sneaked on. And no, the Space Siren LP isn't there for the reasons you may think it's there. It's a truly great LP.
Here goes.
Incendiary top 20 LPs?
1. Einstürzende Neubauten – Lament (Sony BMG)
2. Gut und Irmler – 500m (Monika)
3. Anjou – Anjou (Kranky)
4. Klara Lewis – Ett (Editions Mego)
5. Andrea Belfi – Natura Morta (Miasmah)
6. EMA – The Future's Void (City Slang)
7. Keel Her – Keel Her (Critical Heights)
8. DNMF – DNMF (Moving Furniture)
9. Ought – More Than Any Other Day (Constellation)
10. Vashti Bunyan – Heartleap (Fat Cat)
11. King Champion Sounds – Songs For The Golden Hour (Louder Than War)
12. Space Siren – If You Scream Like That Your Monkey Won't Come (Subroutine)
13. Sleaford Mods – Divide and Exit (Harbinger Sound)
14. Lia Ices – Ices
15. Hauschka – Abandoned City (City Slang)
16. David Thomas Broughton and Juice – Sliding the Same Way (Song By Toad)
17. Scott Walker and Sunn O))) – Scott O))) (4AD)
18. Islaja – Suu (Monika)
19. Naïve Set –Reclining Nude (Subroutine)
20. Perfect Pussy – Say Yes to Love (Captured Tracks)
11 Hon. Mentions
1. Dean Blunt – Black Metal (Rough Trade)
2. Christina Vantzou – No 2 (Kranky)
3. Loscil – Sea Island (Kranky)
4. Hallo Venray – Show (Excelsior)
5. Beginners – September Sunburn (Excelsior)
6. Chasing Rainbows – Make Love Caravan (Excelsior)
7. Nouveau Vélo – Nouveau Vélo (Subroutine)
8. Jozef van Wissem – It Is Time For You To Return (Crammed Discs)
9. Madensuyu – Stabat Mater (Suyu Makinese)
10. Tycho – Awake (Ghostly International)
11. The Homesick – TwstYr Wrsts (Subroutine)
12. Shivers – Shivers (Miasmah)
Best Reissues /Comps?
1. All those bloody Hyperdub 10 Compilations – Patchy but incredible, the amount of things they do
2. Koen Holtcamp – Motion – Selected Works (Thrill Jockey)
3. Local Customs – Cavern Sound (Numero Group) / Science Fiction Park – Bundesrepublik (Cache Cache/Finders Keepers)
4. Ariel Kalma – An Evolutionary Music (Original Recordings 1972-1979) (RVNG)
5. Hailu Mergia and the Walias – Tche Belew (Awesome Tapes from Africa)
6. Johnny Sedes – Mamá Calunga (Fonseca)
7. Killed By Deathrock (Sacred Bones)
8. André de Saint-Obin – Sound On Sound (Korm Plastics)
9. Mick Ness – The Joy of Pop (Out of Print Records)
10. Aby Ngana Diop – Thiossanou Ngewel (Awesome Tapes from Africa)
Best live bands seen? (I'm talking about bands I've seen more than once in 2014)
1. Fat White Family
2. The Ex
3. Fendika
4. Space Siren
5. The King Ayisoba Band
6. UKanDanZ (ok I saw them once but they were INCREDIBLE)
7. Yuko Yuko / Homesick; Yuko on balance.
8. Mecano Un-Ltd
9. Ought
10. Repetitor (possibly they will never leave this list)
Hon. Mention: Big Ups
Best gigs?
Far too many. Top 5
1. Neubauten's Lament at Le Guess Who? Utrecht
2. Dead Neanderthals Endless Voids at Incubate Tilburg
3. Fat White Family at ACU Utrecht
4. Drvg Cvltvre at Rewire Den Haag
5. Repetitor/Las Kellies/Membranes at Cultuur? Barbaar!, Multiplecks Leiden.
Hon mentions: Innercity Ensemble at Incubate / Big Ups at SUB071 Leiden
Best festivals?
Too many and all brilliant in their own way; there I get out of shit. OK then, ONE. The Ex festival. That was a mad mix of festy and club tour.
Best times?
Hanging out with all my friends. And the beer days at Katzwijm Brouwerij.
Biggest miss?
BSP's Sea of Brass thing in the UK. The buggers won't come over here to do it.