I knew immediately that I didn't want to be one of those artists who just show the back of their laptop to the audience. I never wanna do that.

I knew immediately that I didn't want to be one of those artists who just show the back of their laptop to the audience. I never wanna do that.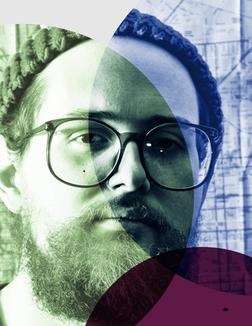 We're at the Tolhuistuin to interview Dan Deacon about his splendid new record, Gliss Riffer. We're not happy. Now, Deacon's a decent and a very entertaining chap, so we're happy at the prospect of meeting up with him; but at the moment we're confused and our tolerance of the monied fopperies of Amsterdam (never deep, always borne with great fortitude) is getting wafer thin. I blame the absence of peanuts.
You see, the barman in the swish, nicely appointed Tolhuistuin cafe looked at me like I'd just told him he was overweight. Nuts? No we don't have nuts. We have an assortment of snacks.
Head reeling (the mental act of understanding that the humble peanut had been expelled from the postpostpostwhatever Eden of snacks is a difficult one to process) we plump for the far more expensive assortment of "old" and doubtless authentic cheeses. We sip at our local craft beer (oh God, I know) and glower. The Tolhuistuin is hard to love. It's future-past, comfy-brutalist stylings are just the sort of thing to tempt the affluent 40-50 somethings out, and make them spend money they don't see on things they don't need, but have heard about. And it's all pin here; cash being the sort of clumsy C20th irrelevance that gets in the way of not thinking about anything. We sit around gloomily, looking – and feeling – like a pair of backwoods cousins wearing zip up parkas at a posh wedding. Eventually we are ferried backstage to meet Mr Deacon.
He's sat on a sofa, and greets us warmly. You can't imagine Dan Deacon ever being standoffish or fey, or cold. He may lose his rag or talk you under the table or demand you eat lobster with him, but he'll never not make the effort. That much is obvious.
"Hey we've met, I don't know where, but hey I know you; you are FAMILIAR!" I explain that I spent the best part of 30 minutes after a sensational Haldern show back in 2010, blabbering onto him about shamanism or something. It may not regsiter with Mr D, but he's willing to indulge me. We settle down to chew the fat.
IN: I was listening to your records; I played them one after the other, to see where your new LP fits. And I created a visual metaphor for Dan Deacon. It's something that happened; an experience. It reminds me of the time when me and my girlfriend were once in the back of a car in downtown Pest. It was a sunny day. driver told us he'd been convicted of drink driving (and he didn't look all that with it) we were driving down the tram lines on the Andrassy Utca, and if you know anything of the driving culture in Hungary you'll know they don't really slow down when the traffic lights change.
So we looked at each other and said, well, if it's going to end now at least we've had a lot of fun.
DD: Risk was involved?
IN: Yeah! And the metaphor was risk was involved, and you're stuck in it. It's like one of your records, you are stuck in it and you wonder how you'll get out. Is that a fair metaphor for what you do?
DD: Well…. I don't… wait a minute, a metaphor for how I do it or how you perceive it?
IN: OK good point – let's say how I perceive it – but at the same time, my perception must have roots in what you create.
DD: OK I sometimes can see, when listening to them – the albums as beehives I'm trying to find my way out of… But not the recording process. I'm still trying to wrap my head around my story (laughs). So you were going down a tram line… How did you allow it to happen?
IN: Well the story gets a bit more nuts… we were delivering false teeth at the time, my girlfriend's cousin makes false teeth in Budapest.
DD: Really? They are like sculptures. My partner's grandfather made false teeth, and when he passed she got all of the moulds. And they are all these beautiful teeth sculptures. They were crazy. Anyway so I'm still confused! So you hear the record and you wanna escape it?? I still don't understand.
(At this point Incendiary resolves never to start any more interviews with a detailed metaphor)
IN: Well you are stuck somewhere in an enclosed space. Especially Bromst and America, where you do feel like you have to be immersed in the record.
DD: I think I get it and I think a lot of the influences I have the things I find relaxing and therapeutic can sometimes drive other people crazy. And I remember listening to Music for 18 Musicians http://en.wikipedia.org/wiki/Music_for_18_Musicians just to relax, to chill out. And we were putting on a festival at the time. And someone was like "can you like, turn this fucking shit off, it's driving me fucking crazy" And I was like in a total trance from it. I found it the most relaxing thing on the planet, but others find great tension in it. And I like that about music; because it's so abstract in its form you have to relate it into your own brain, and you have to contextualize it against what you know, into the pattern of your own life. You form what the music is to you but we will never experience the music in the same way. And I don't know if that's true of any other art forms, do you know what I mean?
IN: It's true.
DD: The more abstract the work the more it's gonna be individualised as regards to its perceptions and that is especially true of instrumental music where you don't have lyrics to (and here Deacon sings in a deep baritone) "this is what the songs about".
…Does that make sense?
IN: But your records are very propulsive – and I am of course speaking from a listener's perspective – that you set your records up as an experience. And in that way you play the role of a shaman. You set up a particular headspace for people to dive into.
DD: Yep! I'll take that. I think making a record depends on the music you are trying to record in the process of recording. And with this new record I decided to do it individually – not that it was any easier, but then it was more… erm… the songs were more aligned for that. I started thinking about how I liked it when the music was made and done inside the computer. So I was making a mixtape, and I was dragging songs from Ableton into the computer and chopping them up and making sequences out of them. And I was thinking, this is done it's done! And I thought, I'm not going to export it into a notation software and make it notation and then divide up the parts and find a player; and talk about how the part will translate for their instrument and then rewrite the part and then record it; and mix down all the layers and then edit them, and then mix it all down; back into the context of the song. I just thought, with this album, it's done!
I mean I love that process but I wanted to do something that was different, you know like finishing a drum sound – the drum sound being the drum sound. It changed my thought process; I mean that's how I made music in the first place; it's how I started out.
IN: So what you're saying is, is that you can differentiate music that is within a computer. I was struck by what you said just then, that you can see a difference.That you see music in another sentient (well not sentient) but in another place…
DD: I think it's different for someone who learnt music by playing a guitar or a piano, because you're hearing it as your write it; and the computer was that for me. Now when I went to college I learnt sheet music, and I couldn't hear it till I found another player and it sounded very different. And if I was writing for piano on a computer I knew that was not how the finished product would be. So if you are writing on a computer you are always fascinated by the idea of what it's really gonna sound like. It's like a demo tape, you know what I mean? You can sit there and think, whilst writing a part for a vibraphone, that this might sound like a vibraphone but it's not a vibraphone; so how can I make it sound like a vibraphone, so where's the vibraphone?
…And that's probably the most I've ever said vibraphone in one sentence.
(Both laugh)
…But you see what I'm saying? So I used to think that anything that can be acoustic will be acoustic on my records. And after America when I started to use synthetic sounds and drum machines And I thought, I really like synthetic sounds! And I thought why not make a record that sounds synthetic and focus on those sounds? And I thought, the sounds I am hearing right now are the sounds that are going to be! And maybe it's because I got into net art and began to enjoy the fact that there are creative things that exist exclusively on the internet. And electronic music… I mean you only hear electronic music in the real world when it comes out of a speaker. When a machine is making waves of sound… And I kept thinking about that. And the process of making electronic music for me is one I discovered by doing it by myself, and I thought it made more sense to do it by myself.
Not that it is any easier, if anything it's drastically harder. Because then self doubt comes creeping in. You like "Oh my God I'm the only ears in the room! Do I love it or hate it?"
IN: Is this the reason for these incredibly positive song titles?
(Both laugh)
IN: Akin to fitness videos… I mean, Take It to the Max, Mr Deacon! (laughs)
… I am interested in this idea of parallel worlds because you do seem to step in and out of two spheres.. you do tell people what to do in your live shows, but you want people to go nuts and express themselves too. You do hint at the idea of parallels, real versus synthetic music, how we react to space. Everything we've talked about today skirts round the idea of parallels and opposites.
DD: There is a duality theme in my work in the performance and recording practises. But I think that comes from the way I think about how electronic music is made and presented in a live performance. When I first went to watch electronic gigs, I knew immediately that I didn't want to be one of those artists who just show the back of their laptop to the audience. I never wanna do that. I was much more interested when I saw noise musicians turn the dial. You could se that at least there was a correlation.
…But it still wasn't physical enough, and I think that's why I started incorporating my voice into my work. I kept trying to think about how someone who knows nothing about music at all would think if they saw me play. Because so much of a performance is theatre, and there has to be something theatrical about it if you stand in a room full of people. I kept thinking about the fact that someone who knows nothing about music, who goes and sees a rock show, they know what goes on when the drummer hits a cymbal, they can make the connection; that an action is causing a sound. And I wanted to have my electronic music making the same connection. And that's why I use my voice, even when you manipulate it to make it totally non-human. (Dan makes a lot of "non-human" blaring noises to illustrate his point). They know something's happening.
…ANYWAY! I thought what else can I add to the performance. And since back then, and since I was a solo performer and I was broke and travelling to gigs by public transport, I thought I can improvise with the room and the audience. I thought that the audience should be the performance. I thought, how can I create an environment where the audience started to think about themselves as the performance. I wanted to put risk into the performance, by making the audience think that this could fail if they don't put the effort in. It's just as much their responsibility as it is mine. And I enjoy seeing that mental shift take place in the room. Even the act of choosing to participate or not is a choice. When anyone's in a situation there are three sorts of people that are noticeable; there's the sort who really wants to be involved, who really wants to show what they can do. Then you get the opposite, the ones who desperately don't want to be involved, and then there's the third kind of person who doesn't care. And I used to think back to the times where I thought when I was in all three situations. I think it adds to what you can do to electronic music.
IN: What is your actual definition of electronic music, then?
DD: It's the music that happens all around you, steering my thoughts. My favourite electronic music is that where you forget you are listening. Listening to music is something that unconsciously drives you. Listening to music is like unconsciously thinking about what is happening to your ears. You can't turn your ears off.
IN: With you music's all about environment. Constantly in flux, isn't it.
DD: It's like controlled air. The best air conditioning.
(Both laugh)
IN: You know I really should ask you about your skull. Did you ever find that skull, the skull on a stick?
DD: I still have it but I don't use it any more.
IN: Have its shamanic qualities dissipated somewhat?
DD: As the rooms got bigger, and we started using more sophisticated lighting, the skull realised that its time had passed. But it's at the ready.
(Both laugh)
IN: I wanted to know more about your ideas round difficult music. My chum Chris Dawson, who reviewed your earlier records for us, described your music as "Steve Reich on acid". And I can see that. I can certainly see the Reich thing. And seeing you brought up that fascinating mental image of music having a life of its own inside a computer, you could launch a career round that sort of thought, something that a lot of academic bores could spin out for months. So I am interested about the idea of the academic and you. How you deal with the fact that your work could be presented as very, very academic and deliberately left-field.
DD: Whenever anyone described my music as simple – and I'm not saying it's the most complex music on the planet – I wonder like, how they hear it! OK, I keep most things in 4. And I like major chords. But I like playing with poly-rhythms and I like playing with density and interlocking parts. But I like the music to have a euphoria to it to balance the lyrics which are quite dark and apocalyptic in nature. I mean… when you experience anything, it's a given that you want to experience it at face value but also at a deeper layer. Of course. Nothing's worse than something like Disneyland say, because it's ONLY face value. I think things that are insanely interesting are things like Minimalism, because it was a rebellion against the avant-garde and the peripheral. They were saying, "we want it to be powerful because we want people to see it unfold before their eyes without someone explaining to us that (Dan adopts another, more robotic voice to add "a theatrical touch") "this was created using an algorithm that was derived from a blah blah blah…"
…Not that I don't like making music like that because I do! But I wannna make music that everyone has the option to enjoy. And that's ALSO why I like layers and density.
IN: Because you allow a number of interfaces to enjoy the work, that's your primary concern?
DD: Exactly! I wish I had done this with previous records but then, technology also changes and you have to work with what you have at the time. And see how you can affect people.
IN: Again we come back to where you, Mr Dan Deacon, place the audience! My favourite artist is Rubens. I love him; his stuff is so brilliant, but you can totally dismiss it. But even the dismissive ideas that most people have of his work, the whole trope round overweight girls and drunken gods is STILL total Manga isn't it? And yet his works are incredibly detailed and stuffed full of allegory. And his technique is incredible. But you still don't have to bother with that. Because he allows you to say where you want to stand in relation to his art.
DD: Yeah! I have this with films; I remember seeing Blue Velvet, seeing it about 10 times and then noticing that Kyle MacLachlan's character had an earring and thinking, wow that's a mad detail to throw in, and it makes you think about that choice to give that character an earring. But his character's such a goody two shoes. But then this earring shows that he has a counterculture side to him. It made me think about his character even more. Even a movie like Tim Burton's Batman. Insane fucking movie. Jack Napier's house is just like, stained plywood; this hotshot gangster's house looks like a painter's studio in a squat and I thought, why did you make that choice? And that got me thinking, because when you make art, you make conscious choices. You have to, even with the smallest detail. And music has the benefit of repeat listenings, and setting a recording in stone that you can perform live! When we perform live we separate the synths abnd drums because where you set the drums is determined by the room and the audience. Sometimes manipulating the drums can really kick a night off.
IN: It's very Exploding Plastic Inevitable!
(Both laugh)
IN: But you're not art cool are you?
DD: No. I think I said this the other day… my mystique is no mystique. It confuses peopel because there are systems of expectation within the music media that a musician is expected to use; you know the aloof genius who's a regular guy. But where's my regular guy mystique!?
(Both laugh)
IN: This reminds me of the great story about the Manchester painter L.S. Lowry. OK I'm wildly paraphrasing here. Lowry was asked to paint something for (I think) the Royal Academy or the National Gallery or something. It certainly wasn't Salford Lads Club. And everyone's saying he's made it, and people ask him what he's going to paint and he said, "I'll do two big un's and a little un." That was his job.
(Both laugh, again)
IN: OK last q. I want to know what your fantasy would be, given your avant-garde leanings, maybe a Stockhausian thing where you get 25 helicopters and fly above the world making a symphony?
DD: I like impromptu things,a nd I like sculpting my environments. OK, imagine the opening of the Olympics. I mean they are very, very impressive. But they also suck. It's more just like "wow how do thye do that"rather than "wow I really wannna see that again". And thinking like that I'd love to see a massive choreographed stadium piece by, say Miranda July! See all odf the marketing stunts being subverted, all tose flash mobs. And this would mean that large group activities, ones where people that they are being changed by that activity, could be put to good use!
IN: It would be a psycopath who wants to watch just a film of an opening ceremony on repeatt though…
DD: Especially for enjoyment! (Laughs) You know, I keep thinking about an age where you go to a show where there is a full stadium with no performers. And you and your fellow audience are the show.
IN: Isn't that Kraftwerk?
(Both laugh)