This was the stuff; hobo rock set on a tripwire. A truly great gig and one of those gigs where listening in was the order of the day.

This was the stuff; hobo rock set on a tripwire. A truly great gig and one of those gigs where listening in was the order of the day.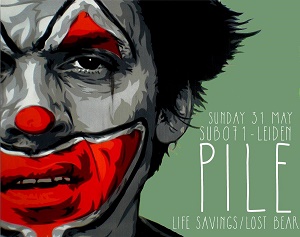 Ah SUB071!
A full night, and a packed one. It's funny but somehow every SUB show of recent memory has been pretty full. And many urban groovers had sidled in crabwise to check out the marvellous Pile, who crop up in the most surprising places. Pile are a band suited for SUB; shamen on the move, happy to turn up and work their magic in the most godforsaken places. And SUB is the classic outhouse on the edge of the otherwise hostile village that gives them shelter for the night.
Three bands for a fiver here, too. It's almost criminal. First up were Narrominded's Life Savings, who pretty loud. Sharing personnel from fellow Narrominded noiseniks Katadreuffe, they base their sonic raison d'être on a commitment to power chords, WRIT LARGE. This be good. Incendiary also noticed a better dynamic in relation to their audience. For sure they can all play but there was more light and shade here, or maybe a realisation that – if they really went for it – there'd be no-one left in the cramped space that is SUB's inner burial chamber. In essence, their hard, clean, chunks of rock seemed to be better aimed, their aggression doesn't feel so awkward anymore, and they seem to have got a groove on. Even so Incendiary lasted 3 or 4 numbers and beat a retreat to ensure the rest of the gig could be enjoyed without being fried AND mashed.
Following Life Savings was Lost Bear, whose strangely wired but very moreish lightning bolt of a new release, Monkey Pop, is out on an underground music website near you. The band now boast The Fire Harvest's Gibson Houwer on guitar, whilst Gino has switched to bass and Stefan finds himself on lead. Somehow this has smoothed out a lot of the emo-esque stuff that I could never quite handle, with Gino's incredible, Kimberley Rew-style blurts and wriggles now tamed through having to BEHAVE HISSELF whilst laying down a rhythm. Gibson's brought structure and an understanding air to the music. Which means they have more room explore their strong pop sensibilities. I don't think we heard any of the new LP, Monkey Pop (a Dutch soulboy take on Same Place the Fly Got Smashed for the record) but we had a lot of things that fitted the Lost Bear template; rousing clashes and swirls of guitar fuzz drenched in harmonics and quick about turns of melody. And Casper hollering out his best Steve Marriott impression to anyone who'd listen. Which was great.
What is good about Lost Bear is their ever-evolving love of lofi and soul. They don't so much as wear their influences (college rawk, GBV, classic British 60's RnB) on their sleeve as embroider them on with different coloured threads. And then take them to make very, very accessible cross over pop songs. Somehow they're going to be a band who will make about 50 LPs people will like well enough, and one utter jewel of a recording that would – if they'd started about 30 years ago – now have them playing chicken-in-a-basket reunion shows all summer.
Then the main event. On trooped Pile, quietly determined to earn their keep. Pile's dry, angular and arty approach was the third take on guitar rock we'd had on the night. The band's set was full of witty, lateral explorations in a post-punk/postrock landscape that would trip you up when you least expected it. Add to that a laconic manner that embraced a clashing, 30 Seconds Over Tokyo-style racket and a sentimental side that could have sat easily on an American Music Club LP, and you can see that we had quite a proposal on our hands in the gloaming of the SUB. Somehow the gig kept reminding me of a very, very skilled children's entertainer who knows when put their young charges under the spell of the act. It was almost as if Pile waited to check out the audience with a few numbers, and slowly built up a set that had just the right amount of pressure in it, turning the screw and smashing out the chops when you least expected it. At every command, or suggestive vocal drawl, the audience visibly jumped. This was the stuff; hobo rock set on a tripwire. A truly great gig and one of those gigs where listening in was the order of the day.