Watching someone pour his heart and soul out over a Thomas Dinger/Sons & Fascination backdrop does need a bit of darkness and mystery.

Watching someone pour his heart and soul out over a Thomas Dinger/Sons & Fascination backdrop does need a bit of darkness and mystery.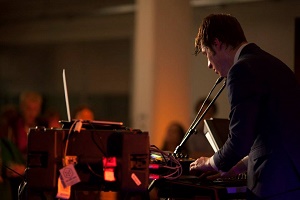 It's 6am. I stagger out from the famous Vera club, hanging on to Wymer Vaastra, the lead singer of Vox Von Braun, an unlikely support given his lithe frame and my trencherman build. Still, a man should take all the help he can get when confused by the dark arts of walking. We're both slightly miffed that sweeping the downstairs bar clean didn't get us the beer promised by an increasingly frazzled barman. But all is forgotten as me and Wymer survey the gentle devastation around us. Bathed in the soft morning light from an early June sun, the Oosterstraat is – and I do not exaggerate here – strewn with "lounging" young people. They strike extremely relaxed, supine attitudes; their reclining poses suggesting those of the inhabitants of Arcadia, as painted by Poussin. Albeit in a street that smells of booze, sick, and kebabs. Talking of kebabs, I hug Wymer in farewell and essay forth to the infamous kebab shop on the corner of the street to buy something that looks like an exploded cabbage in a bag. I eat some of it, wonder why I bought it, bowl along to the train, fall asleep and wake up at Zwolle. Ah, Groningen, you have never failed me yet.
The previous evening I had been booked to talk about my experiences as a rock journalist in a hairdressers by de Nacht van Kunst en Wetenschap bunch. That's by the bye. Luckily my performance coincided with those from a number of bands playing the very same night; all of whom I was very happy to see. In alphabetical order: Amber Arcades, Blue Crime, East India Youth, Rats on Rafts, The Black Cult and Yuko Yuko. Sadly, I missed my good pal Stefan Breuer, Ben from Vox, and the Lumes; a band who I've heard a lot about. Apologies all round.
First up is Blue Crime, who I missed at SUB, and who are playing in Wereldburgers. Recently I saw pretty much the same name used to advertise snack food in Dokkum. But that's where the similarities end. Dokkum's Lantaarn pub advertised world burgers in different sizes with chip portions the size of a small pyramid. This Groningen joint is one of those new "posh"/ aspirational / urban / yuccie places where they tell you food is FOOD (guys), and charge you exponentially for the privilege of knowing that difference. Doubtless you eat off plates that doubtless look like driftwood or a spoon rack. The prices make my eyes pop. Two bottles of beer in here costs more than the entrance fee and two beers at the SUB071. I find Ruben from WOLVON and Lepel (whose showcase is here) and he heroically hands me a tinny of Amstel for nowt. Who needs aspiration and taste when you have friends like this.
Blue Crime start up to a fairly quiet room. Now, Blue Crime are a funny bunch and I can't quite get the jist of them. I think they are a band still deep in the process of finding themselves. For one, they rock a sort of La Düsseldorf, "Viva, white overalls" look, which looks weird, and wrong, and very cool at the same time. Musically, Blue Crime's set hints at a faux toughness, indecision, charm and real rock presence; all at once. And especially when the singer throws a few Patti Smith poses and yelps in along the way. Their songs are strange but intriguing; the music seems to dissolve into thin air despite having all these rockist attitudes. There's this battle between a washed out shoegaze – which is so frazzled that it is far closer to the tatty afterburn of Amon Düül II's (or for C21st Heads, Voice of The Seven Thunders, or Trembling Bells') psych folk – and a rocky, ramped up Marble Index thing too. I'm also reminded of Broken English by Marianne Faithful along the way. So; interesting, intriguing. Do they have the guts to really explore, or, as they evolve and harden into something more suited for a circuit, will they ditch all this baggage and become something more "acceptable"? Time will tell.
Then I run to get Rats on Rafts, over in the gloaming of Albertus Magnus. It's a predictable Rats set really, i.e. utterly brilliant and revelatory for those who have never seen them live before. Jaap is still standing in on bass and bringing his own spiky sensibility to the band; Florian's dark, "soul riddims" given a ride in a Frisian tractor. It's also worth reiterating that the energy this band summon up is terrifying, otherworldly. Powder Monkey sounds like the world ending, its pulsating rhythms making the bar shake, literally, whereas Last Day on Earth has this ghostly air that shimmers and sandblasts, screeching through the room like a drag racer. Oh, and the brilliant cover of Some Velvet Morning sounds better and more alive than anything at any Mary Chain reunion gig will ever do. On 1-6-8 Machine, I do my bit as the Reverend and break the mic. Yet again the band improvise around me whilst I get my act together. Watching them from on the stage, as a participant, it strikes me just how brilliant they are as musicians with "feel"; everything still retains an off-the-cuff element, something that you only get with near maniacal practice and a 1000 shitty dive bar gigs. Incredible.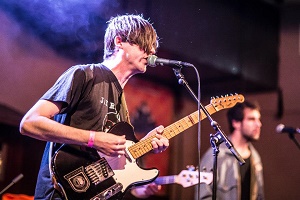 I run over the road back to the Lepel showcase to catch Amber Arcades, who have promised a load of new songs, whipped into shape in New York, by some of the Sacred Bones lot, no less. And in the downstairs of Wereldburgers, it's apparent that these new songs are brilliant; stripped down and slightly bitter, reflective pop ballads that don't sound like pop ballads. It's very, very much like Felt when Deebank was in the band, or Waterpistol-era Shack, or the more "wild and lonely" tracks from British Sea Power (Moley and Me, Albert's Eyes); in short, weirdly attractive anti-pop with strange atonal twists and surprising changes of tempo. And singer Annelotte De Graaf's vocals have more to them now, a bit more battle scarred and skint, the sound of someone who couldn't give a stuff. This is good. No more winsome smiles, just a cheeky juxtaposition of her own "can do" cheek and a wiry determination. Very Kim Deal. I've always thought they had promise; and if harnessed to a gameplan with substance, these new tracks and attitude could surprise people who thought they were destined to being a sweet girl pop band, destined to play coffee houses for The Bakfietsmoeder Brigade.
Back at Albertus Magnus I catch a bit of The Black Cult rock out, and enjoy their energy and straight-down-the-line, two-car-garage sound, but I have to run off to do my own thang, and then a sprint to Minerva Academy to catch Yuko Yuko (replete with new bass player, who lounges around like he's Paul Ryder) play what looks like the venue from hell in front of the usual shifting, grazing crowds. For one the Mivera building is far too light. Second, it was huge. Basically a massive foyer with stairs; fine for meeting your colleagues from Social Sciences, but pretty intimidating as a setting, for band and audience alike. No-one feels comfortable really. The audience, self-conscious under the bright lights, shift around, and wander off. Now, I dig the fact that getting people out of houses and to gigs these days requires superhuman efforts, and hey we're all post-post-post modern and groovy now, but – quite simply – people should be rounded up and forced, FORCED, cattle-prodded, electric-shocked into venues or pubs that can double as a venue; not into fucking bagel shops, libraries or college foyers to watch gigs. Then everyone wins. Good atmosphere, in a room designed for gigs, bigger crowds, no crappy beer set up with pumps breaking with staff who'd rather be serving professors or tennis fans, and no feeling that this a gimmick when all's said & done.
Rant over. When I got there, Yuko Yuko were smashing through their numbers with their trademark cheek. Marrit did some kind of belly dance and Elias did his trademark tribal shuffle; both suggesting you to try too, though expecting you to make a fool of yourself in the process. Yuko balance this standoff, even haughty cool with something that is very sentimental and heartwarming; both in their sound and presence, and it works. Every time. They also boast a lovely sound live, crisp, shimmering pop with a deep and squelchy bass that you can do the bump to. Imagine Parliament and Mondays on the wagon… They've never got this feel down on their recorded sound (like many exciting live bands to be fair) but in some ways Yuko are a future-past thing, part of, and outside our collective consciousness. Somehow the idea that their pixie dust would get properly pixilated would be a crime. They can live on as a memory that gets updated. The set's highlight, I Need a Doctor, was it's usual pulsating self; full of attitude and rousing refrains, and those who don't wander off, dig. And even manage a self-conscious shuffle.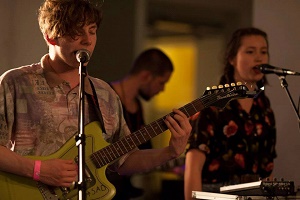 Poor timing and luck of the draw sees Cairo Liberation Front & East India Youth play at the same time in different locations. This is a real shame as the two share the underground/leftfield/trendy audience that's in town, meaning Will (aka East India Youth) has to play for the lost, the curious, the grazing and the odd diehard. Further East India Youth's sound (as heard on his splendid new record) is totally unsuited for the setting (where people feel damned uncomfortable under the shiny sparkly lights). Watching someone pour his heart and soul out over a Thomas Dinger/Sons & Fascination backdrop does need a bit of darkness and mystery. Regardless the 'Youth ploughs through it all, building up waves of future-past soul which seem to illuminate all things, only to vanish, as if by magic. Some tracks roar on; synth swells and clever modulated beats crashing like waves on a beach. The lad's suit is dripping wet by half way, but we've come to expect that. What makes his music really great live is this honest, and very steely determination to explore every nook and cranny of his sound. And playing everything live, there's never a sense that he coasts, even if it does freak people out. I think I've said before that this honesty gets missed by many. But in a world full of pre-programmed fakers, seeing the real thing can be confusing. Still, I see Jan from local record shoppe, Elpee (a magical place, 100 times better than hanging out in a shithole like Middle Earth or Narnia) nodding along enthusiastically. He knows his stuff does Jan, so this makes me feel a lot better. And those who stay begin slowly to understand that this is something special; especially by the end, where the room does become a mini club due to the pounding beat. A truly great and exhausting gig, and we all deserve a medal.
A parting shot: NO marks WHATSOEVER to the "not my pigeon squire" fuckers on the beer pumps who wouldn't give the artists a couple more beers at Minerva. One day we'll all find ourselves in the same detention camp, and your servility to The Man (and his foaming half half plastic beaker of over priced beer) will have got you nowhere and make you realise you've been screwed by Bastard's HQ. Apart from that, great fun, all round.