I'm beginning to think of Haldern's programme as a curriculum instead of just a timetable of bands.

I'm beginning to think of Haldern's programme as a curriculum instead of just a timetable of bands.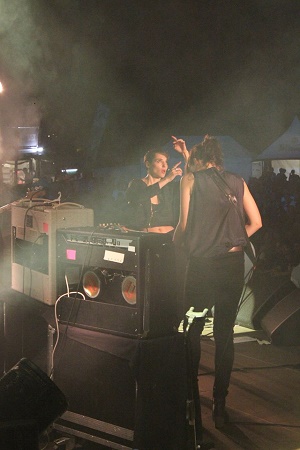 Friday 14 August
Damian: As storms go, Thursday night's one was a bobby dazzler. We're not entirely sure what Public Service Broadcasting did to upset the God of thunder but Thor was in an almighty rage for most of the night, banging clouds together like Ginger Baker in a bad mood, showering the festival site with heavy rainfall and treating those lucky campers still awake and outdoors to a dramatic light show. From inside the tent, the scene made team Incendiary feel like escaped convicts, sheltering from the glare of scanning spotlights. When morning came, however, the sun shone bright but thankfully less intensely than the day before and all was well in the world of faerie once again. Due to our early departure last evening, we awoke with clear heads (surely a first for us on a Friday at Haldern) although the less that's said about the portaloo incident I endured at 6am the better. All I'll say is it was so upsetting I nearly slipped a disc in my back. Still, the morning found us in fine fettle and so off we ventured, into the village in search of breakfast and a flushing convenience.
Once we'd eaten the devil's eggs (what was that salad cream like concoction?) and a couple of the Kaiser's bread buns, it was time for the day's festivities to begin, back in the teepee.
Richard: I had to do a talk. In a teepee. About "unplanned music" with Robert Raths, head honcho at Erased Tapes, and André de Ridder, conductor. The idea of trying to give the (horrifyingly fresh and eager) audience an indication of what "unplanned music", or the unplanned in music was, (and – oh Saints preserve – "what music was" as a starter) seemed daunting. But Robert and André are very successful in their respective fields and the two had enough nous to make sense of my prompts.
Damian: I'm not just saying this because you're a friend but that chat with Robert and André was very interesting and a delight to listen to. I find them both fascinating people. Their opinions and insights on how to balance the different roles they must both accomplish in order for their work to be 'successful', in all senses of the word – although very different from each other – made me feel like there's still a lot of hope left for music in the here and now. It's people like them that will keep things moving in a good direction because they're in it for good reasons. In Robert's case, it's about building a platform to make people hear the work of artists he loves and finding ways to work with those artists in order to help them be the best they can be. André is trying to, not so much break down barriers, but instead cross them more regularly or cause different groups to interact and collaborate, which is great. The work he's doing with Stargaze gets ever more adventurous and he's a real instigator. Watching what he, and his orchestra are going to do next is always interesting….and that's why we legged it over to the Church to catch the end of Cantus Domus' acapella choral performance and take our place for Stargaze performing some of Johann Sebastian Bach's Cantatas, which was, in a word, excellent.
If you're going to listen to some of Bach's Cantatas – and there are a couple of hundred of them, so choosing a few may be a wise move – you could hardly find a more appropriate setting than this. Haldern's church was packed, to the point that many simply flopped down in the aisles, dreamily looking upwards to the arches as Cantus Domus and Stargaze played a 'set' of real power and drama. Sometimes, as in the unexpected pulpit appearance of a trumpet soloist, the drama ventured closely into amateur theatrics it must be said but I don't want to be too flippant here. This was wonderful. The music seemed to surround you. The long, tall narrow nave of the building, coupled with some delicate amplification (bravo sound peeps!) allowed the music to swell, reverberate and simply envelope the audience. From our vantage point, off to one side, we could see the faces of many of the crowd, who were simply transfixed by what they were witnessing. The care and attention to detail both in the set up and the performance was extraordinary and this was easily one of the highlights of the entire weekend for me.
Richard: The Stargaze "gig". Wow. Like many Lee Perry fans I have a soft spot for Bach. And Stargaze and Cantus Domus did the old towser proud with a breathless, "crystal" take on Nach Dir, Herr, Verlanget Mich (BWV 150). In the church, people sat as if trapped in amber, spellbound by the power of JSB's great rolling passages . Fuck; with music like this, who needs wars or burger chains or even Gortex? In retrospect I'm annoyed I didn't camp out in the church for all the Stargaze/Cantus Domus collaborations.
Damian: And how do you follow something so big and powerful? Well, if you're Soak, you take everything in the opposite direction. From a full choir and a multitude of instruments, everything was dismantled until we were left with a tiny young lady from Northern Ireland holding a guitar. Her playing seemed quite fragile and delicate but there was a subtle strength to everything that I found quite powerful in its own right. She used the room brilliantly, cutting back her songs to allow for more space in between elements. The guitar sound was allowed to travel and dissipate. Her vocals, at times, became almost unintelligible, forsaking diction for mood and it worked wonderfully. I was really, really impressed with her.
Richard: Soak's LP is great, but she's miles better live. There's some steel and sharp wit in the live gigs that circumvents the bittersweet, maybe cloying passages on the record. And yes, she really used the space brilliantly.
Damian: Unfortunately, we missed Tor Miller tinkling his ivories as we had to pop out and do some official business, but we did get to hear a bit of Mark Geary and Grainne Hunt playing in the Pop Bar. They went down a storm, but then Haldern always does love it when someone gets off stage and wanders around for a bit.
Once we'd fulfilled our duties we made it up to the main site just in time to see Villagers walk off stage in the speigeltent. We can tell you that the crowd were thoroughly impressed, as indeed they always are – Villagers have appeared at least three times at Haldern now – but we saw too little to report further. We were also able to avoid most of Intergalactic Lovers' set as well (those Belgians were far too happy to be anywhere for our liking) but did take our seats, you'll be glad to read, to watch Liam O'Maonlai and Peter O'Toole. As singer and bass player, respectively, of Hothouse Flowers, these guys are highly respected in certain circles, but it would be fair to say that the Flowers have never really floated our boats. Nevertheless, they were wonderful.
The crowd was an interesting mix. It was obvious that many of the young teenagers who'd fought gallantly to gain entry to the spiegeltent for Villagers had found it nigh on impossible to get out again but there was a good mix of the older folk in there too, with one or two unruly sorts –Hothouse Flowers enthusiasts, we presume – who pushed and barged their way to the front to get a closer view.
Heavily bearded in his grey flannel suit, Liam looked for all the world like a dancing, barefoot Karl Marx at times but aside from the couple of Hothouse favourites, which were gratefully received by that unruly section of the crowd, the real magic came when Liam were singing in Gaelic. Finding an almost supernatural balance between pop, traditional folk and some almost primal drone singing, Liam took the crowd on a journey into musical realms many of them had never ventured into before. It was hypnotic.
With drone-a-longs, chest slapping and much more besides, this was a truly triumphant little show. Of course, we had no idea whatsoever of what the songs were about but that mattered little. The feeling, the emotion and the sheer honesty of the playing and performance created an atmosphere that was electrifying. It was a truly magical hour and one I'm very pleased to have been witness too.
I'm beginning to think of Haldern's programme as a curriculum instead of just a timetable of bands. Only at Haldern would you get a church full of teenagers watching Bach, followed by a singer songwriter from Ireland, followed by a US law graduate on piano. Or some radio friendly indie band like Villagers followed by a traditional Irish/Gaelic act. Or Dan Deacon following Ibeyi. They're not separated into different areas, there isn't a classical stage or a world tent, there's simply a running order and you can wander through it as you see fit. The fact is, every year here you'll stumble across something like Ibeyi, or Liam O'Maonlai that will totally stop you in your tracks, even if you had little to interest in them previously. So never mind the jolly weekend, you should come here to educate yourselves. You'll feel all the richer for it.
Richard: I can't say I was looking forward to Liam O'Maonlai and Peter O'Toole. In my addled memory, it seemed that back in the late 80s, only the most irritating, gobby no-marks had Hothouse Flowers records. Theirs and those of The The, or Deacon Blue, stuff like that. I thought I'd just sit down and have a pint and watch ten minutes. But again, something happened in that Spiegeltent. Writing "long fluid passages of often unintelligible Gaelic/Celtic raga" down may not sound like the best way to explain why this was such a great gig. Probably the worst. But the passages where the pair got out of their bonces, following the groove and murmuring Gael incantations to some Brythonic water spirit or what have you were ace, ace. Van the Man territory at times. I was truly moved, like I was moved when Ukraine's Dakhabrakha played here a few years back. Music as a bridge to the other side of the tracks… Sadly O'Maonlai and O'Toole had to play their hits (it would have been weird if they hadn't) and I had to stumble out.
I'd love to say we gave Mammut, Die Sonne (whom I do quite like, even if you can tell they haven't really learnt how to play properly yet) and Alcoholic Faith Mission the respect they deserve but we got caught up in a backstage football match with Soak, some Villagers and the odd bystander. You know how it is.
While we're on the subject, I insist the drummer from Villagers should have been red carded for that lying down across the goal (which was a bench) episode and my shins are still bruised from Soak's Doc Marten's but we gave a good account of ourselves I thought.
Richard: DISGUSTING CHEATING FROM YOUR MAN IN VILLAGERS. Such an utterly brazen, Bono-like will to win may do well for his band, but Sirrah! Not on the verdant greensward of Haldern's impromptu football pitch. Still, the guitarist lad from Soak's band was a canny player, in that sort of whippet-like harrying, snap-at-your-ankles (disgustingly) energetic way. Soak herself should be banned from playing football. Dirty.
Damian: The DMA's I do want to talk about because I thought they were a lot of fun. Yes, they sound very Madchester-ish and if you're averse to that late Stone Roses, early Oasis sound you'll probably hate them but I say lighten up a little. They're just a bunch of lads having a laugh and you can have a laugh with them. Their fashion sense is bewildering, which will make them stand out a mile in any crowd and their bodies are proof positive that you should never let a friend tattoo you when you're drunk but they know how to craft a tune. In fact, Your Low reminds me of Now, from Okay's Low Road album, which is one of the best albums we've ever covered here at Incendiary so that's enough for me to get on board. You may well feel like you've heard their tunes somewhere before but like I said, just have a laugh with them. I'm excited to see what they do next, or which tabloid they'll turn up in. I sense their story is only just beginning.
Richard: Think of a taproom take on The Saints sometimes played at 17 rpm. It was messy and good. At times their music hinted at really good things. Australia's got a brilliant tradition of guitar bands to draw from (I wonder if these lads have heard of the Inner City Sound compilation) so I find the Oasis worship bewildering. But fine, good fun and I hope they don't turn into cartoon versions of themselves.
Damian: Kate Tempest, on the other hand, is right at the top of her game it seems and she played to a devoted crowd over on the main stage. For me, however, something isn't clicking. I admire her greatly and having watched her perform that only increases but for some reason her stuff still isn't clicking with me. Can anybody enlighten me as to why that is?
Her attitude is great. Her lyrics and delivery are forceful and eye opening too and yet I still feel like it's passing me by. I don't know. Perhaps I never will.
Richard: Kate Tempest played a hell of a show. A really tough, honest gig and she can hold a crowd like few others. But I don't know. I have the same thing, I don't really feel it. Maybe because I feel like I'm being confronted and pressed into service for something that's being explained in smart couplets. I feel like I'm at the theatre watching a "modern play" and all of that. I'm such a precious nob sometimes I really should shut up.
Damian: Back to the tent to watch Soak once more, this time with the band and once again, I thought she was tremendous. If only because the set was completely, categorically different from the one earlier in the day. In some cases, the songs were repeated but the performance wasn't. Everything came to life, the force from the extra instruments removed all of the fragility that had been so evident earlier. She's definitely one to keep your ears tuned to. I can't praise her enough, great stuff.
It was here that we started to lose the plot a little bit, pretty much bypassing Olli Schulz and Rae Morris and finding ourselves backstage for our first visit to the vodka tent. Oh dear, I can still hear that bell.
Richard: …
Savages, thankfully, pulled us away from the teepee of doom and pretty much kicked the shit out of anything and anyone in their way. They were…..tremendous.
Richard: I'm stood at the side of the stage. Someone whispers "Simple Minds"in my ear. What a coincidence. I was thinking exactly the same thing. Right then. It's probably to do with the way Jehnny Beth moves, and the way that guitarist Gemma Thompson watches and reacts with a set of licks and patterns that give a counterpoint to Beth's emoting. Beth, hair slicked back and panda-eyed, looks like a Sons and Fascination era Jim Kerr too. They are such a sensual band, as in they dream about their own music while they play it. Which is a bit Simple Minds too (well for those with long enough memories). Regardless of comparisons, they are a force of nature live, with tracks like Husbands and Fuckers; both of which acted like a wrecking ball on the Haldern crowd's senses. This has a lot to do with the rhythm section, who set up enough thunder to pummel the audience, driving the band's sound on like a slave driver.
Now, I'll let you into a secret. I don't really dig their records. I like their songs but somehow I can't handle the quality of their recorded sound. It grates, sometimes sounds like they are fighting their own reflections. Like an argument in a bathroom. But as a live band they are peerless, expansive, at times receiving and transmitting; a privilege granted to the greatest (Clinton, MES, Roky, Jerry Lee, Klaus Dinger). The molten, baying state of a crowd who were initially sceptical (Germany hasn't really taken to Savages apparently) showed that this band have that special something in spades.
Damian: Every now and again you'll see a band just step up to the plate, seize the moment and totally annihilate all competition. Savages did that here. They were, by far, the best band on show all weekend. Their set was crisp, precise, heavy, rocking and dark as fuck. They had a perfect time slot too, just as it was starting to go dark. They commanded your attention. They played with your expectations and they simply owned the fucking festival. Incredible stuff.
Needing a breather after that we helped the girls celebrate in the vodka bar before returning to watch Nils Frahm and his giant film set of a stage show bring everybody back down to Earth. That's not to say Nils was bad, you must understand, because he wasn't. Far from it. The guy is bloody marvellous but I did find it bizarre to watch him running around with these gigantic wood piles and what have you surrounding him. He looked like an outtake from Metropolis. A small man struggling to make sense and control these gigantic machines. His stuff his great though, and this was no different. A few years ago I would never have thought he would have grown to headline status so quickly, he seemed far too niche an act for that but all credit to him. He fills that role with aplomb. Great set, great show. Job done.
Kiasmos, on the other hand, lost me about half way through. Even Nils' cameo appearance couldn't lift the set enough for me, it became simply too mellow and repetitive for what I personally wanted now that I was beginning to feel the effects of the vodka and so I left them onstage, nodding their heads like little toy dogs and retreated back into the teepee of doom, where the soul music was blasting and the dancing was fast and furious. Some girl painted our faces with glow in the dark warpaint. We gave avant-garde dancing lessons to people. We drank vodka and lots of it and lots of fun was had.
Richard: I DID enjoy the bit when they dropped the keyboard mind.
Damian: Eventually I realised that there was another day ahead of us and so made a hasty retreat, finding myself wandering through the beer garden area, where I joined in a circle dance with a bunch of Jurgens. Three of them. Bernd Begemann was playing in the spiegeltent and I can't describe how much fun that guy is. He's like the German Elvis crossed with Benny Hill. I love him. The girls love him. Even the Jurgen's loved him. Great stuff.
What a day. What a night. What was that warpaint all about?