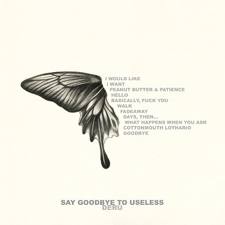 http://www.konkurrent.nl
This disc has been hanging round Incendiary Towers all summer. Instead of reviewing it we just kept playing it, and then forgetting all about it. The record certainly has a tough side: it refuses to let up and be forgotten, despite its diffidence… There's something very strange about Say Goodbye to Useless: it lives in a timeframe of its own, and apologises to no one for a seemingly kleptomaniac approach to styling, tempo and presentation. The ghostly, cloistered opener, I Would Like in no way prepares you for what is to follow in the rest of the LP: (despite the following track, I Want being – to all intents and purposes – I Would Like propelled by a trippy beat & the odd cut up sample).
Peanut Butter and Patience is a trippy, claustrophobic workout that sounds like its 1998 all over again: beats, sampled shuffles and tympanic clattering propel an atmospheric soundscape round some distant musical exercise yard. It's very much like a David Holmes track in scope and direction. Hello is a paranoid jumble of muffled sounds, electronic echoes and quizzical bass licks whilst Basically Fuck You is a fractured – sometimes melodic work out that uses something that sounds very much like a doorbell ring as its inspiration.
Walk is a cold, soi distant spy thriller soundtrack, (again David Holmes springs to mind) and sets the scene for the creepy melancholy of Fade Away – which is the first track to allow a human voice to interrupt proceedings. It's a bit like a Philip Glass track at times too: I blame the woodwind… The LP's highlight, Days, Then… is very much in the DJ Shadow mould: the track's suspicious nature is enforced by the suppressed, controlled patter of the beat and the smooth suggestion of the electronic piano part. The track's ending releases all dark thoughts however, courtesy of a soothing synth wash. What Happens When You Ask continues the spy theme further (we get some kind of police SitRep sampled) and Cottonmouth Lothario could very well be a cut up of a Crusaders track (with some added 80s style gloopy keyboards). Goodbye does exactly as it suggests & fades away after lingering with some uncertainty in the background, aided by some pressured synths and warped gamelan(?) sounds.
A very intriguing listen even if it is a slow burner.