Apparently there still exist those who consider Jason Pierce to have been the "talent" in Spacemen 3. There are still people who think the world is flat and TV soaps are real, too…

Apparently there still exist those who consider Jason Pierce to have been the "talent" in Spacemen 3. There are still people who think the world is flat and TV soaps are real, too…
"What day is it?"
"Monday."
"What do we have to do today?"
"Go home."
"That's all?"
"That's all."
"…phew…"

12 HOURS EARLIER
Craig, text: "It's all going ridiculous here. Amanda has found another 3 euro mojito and there are a clutch of bars with small tapas for 1 euro each. She also (totally accidentally) walked into a dog in a drunken haze and it yelped a bit."
Me, reply: "I don't even know what's going on. Fell asleep to a grizzly spanish singer songwriter. Just woke up and he's still on. Caffeine has stopped working. Brain and body waving white flag but like a junkie chasing a last hit, one more band…"
It's Craig and Amanda's first Primavera. They have experienced the truly unrepeatable multi-sensory experience that is being on a Ferris wheel high above the Barcelona seafront while My Bloody Valentine hit their legendary noise break on one side and Omar Souleyman did his souk folktronics on the other, a mash-up no DJ could have ever envisaged. And had a litre of sangria for breakfast. Twice. We are in the plush balcony seats of Barts Nightclub, all wearing that last day thousand yard stare. It's my sixth Primavera and I should know better… One more band. Come. An aptly named band for the climax of anything really, especially this…
A WEEK BEFORE THAT
Easyjet Flight EZ7209 from Ringo Starr Airport (or something like that) touches down in pissing drizzle. This has never happened before. There was that insane thunderstorm last year on the last night; a few warm drops in 2008 and 2010; but this year the forecast is grim. Shit Monday, shit Tuesday, mildly shit Wednesday, OK Thursday then more shit. And I'm knackered. Woke at 6.30am in Brighton, five hours after stumbling out of the Green Door Store venue having seen 53 bands over four nights and reviewed about 44 of them for Louderthanwar – the remainder completed on a hungover five hour train/tube/train trek home, a coach barely two hours later to Liverpool and said orange aircraft, then published Monday morning via hotel wi-fi whilst convincing myself the rain would just go away if I believed it would. By the evening it has and we're watching Jupiter Lion in Barcelona Apolo, the opening band on day one of the now week-long festival. Their krautronic spacerock is nothing new but enjoyable anyway, and a photo I post the next day gets a self-confessed vintage synth geek friend slavering.
Frankly they'd have to be pretty poor to dampen my excitement right now anyway: I'm in one of my favourite venues in the world, in a city that feels like home (on that last day when the walk from the city park to Barts takes us through the Rambla tourist strip the beggars and hawkers leave us alone; to us it's just a road to cross and it must show) and I'm about to watch a relatively rare live appearance by one of the greatest living musical visionaries on the planet. To his parents, the government and the makers of documentaries about Delia Derbyshire he is Peter Kember; to the generation of indie kids whose minds he opened to everything from the late DD herself to Neu! to Daniel Johnston to Suicide, he is Sonic Boom and this is SPECTRUM and what follows is a flawless trip through his career 1988-94, which sets the bar almost impossibly high for the whole of the rest of the week.
There's Che, Suicide's homage to the motorbike-loving revolutionary washed in calm by a band as good as any Kember's had over the years; there's Lord I Don't Even Know My Name from 1992's Soul Kiss (Glide Divine), with hindsight interestingly similar to the Spiritualized blueprint which his estranged bandmate was still fine-tuning. There are early solo singles Angel and the glorious trashy fuzzpop How You Satisfy Me. There's the strung-out Mudhoney cover When Tomorrow Hits and its sibling in sound, his own stoned Undo The Taboo. And there are blisteringly brilliant takes on his most legendary Spacemen moments – a Revolution that sends the front crowd absolutely wild and the searing, noise-drenched Suicide stretched out until all that's left is feedback. Bloody hell.
Apparently there still exist those who consider Jason Pierce to have been the "talent" in Spacemen 3. There are still people who think the world is flat and TV soaps are real, too…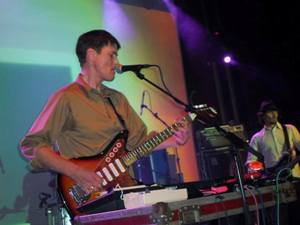 Godlike genius Mr Kember
We're back there the next night for a vety different but equally thrilling performance by Bo Ningen. One of the best live bands in Britain right now, the're sandwiched between a local black metal band (and the Catalan bands here are always well supported) and nineties legends Godflesh, which could be considered a daunting prospect by most bands at their level. Foscor – complete with skull-centred backdrop – have much the same effect on me as most black metal: the music, closer to doom-psych than any traditional forms of metal, is great but I can't get into the vocal style. Enjoyable enough, though.
There also seems to be a self-contained Polish showcase in the basement venue, a package event which like me has hot-footed it here from Great Escape, although the first band on here tonight weren't on that stint. At one of their Brighton events I somwhow acquired two inflatable travel pillows, emblazoned with the title of this enterprise: "Don't Panic, We're From Poland". Why would you panic, asks the confused singer of Fuka Lata – and I shudder briefly at the thought of some of the UK's more xenophobic tabloids and feel a little ashamed to be English. The slightly debauched clubber styled boy-girl duo make electronic pop that's unashamedly and brilliantly mid-eighties, and later in the weekend they'll draw the biggest ever crowd to the Adidas Originals emerging artists' stage.
Bo Ningen are as fiery as we've come to expect, and really shouldn't take for granted but we sort of do. Hard and fast and psychedelic and abrasive and a shot of energy. They look incredible, they send the crowd wild, Taigen does that bass-fucking thing and it's like the whole place with its beautiful red lighting has been electrified. In the end it's Godflesh who have a tough act to follow: of course, to those fans whose youth they soundtracked this is a moment, but they rarely strayed in from the periphery of mine. They do what they've come to do and do it well, Justin Broadrick terrifyingly statuesque in front of a stark crucifixion projection and the grinding noise and industrial beats relentless. We forget to go back and watch the other bands, though I get a text from Craig saying "We are watching something quite mental called Plum downstairs" which is the last we hear from them for three days…
WEDNESDAY, BUT NOT AS WE KNOW IT
So what day is it? Wednesday? It's weird, this year. I wrote last year of that buzz, 4pm on Primavera Thursday, walking down towards the Forum Park – the buzz that's been building through the Apolo gigs if you were there early enough and really starts to fizz at the pre-festival. Last year's public freebie at Arc De Triomph with what seemed like half the city turning out to watch The Walkmen or to sell beer from carrier bags; 2012's sangria-deranged party under the brightest of blue skies in the beautiful Poble Espanol. This year we've already had a sneak preview of the site. It was like seeing Santa's Grotto half built. There's a Ferris wheel! But what the hell's that? The grim realisation that this year's beer sponsor and supplier is not the usual crisp, refreshing Spanish lagers but the grim dishwater that is Heineken, and that's why it's all green, but hey, that undercover bit they've built down the far end might be useful if that weather forecast's anything to go by… hang on a minute, have they moved the ATP stage? No, they can't have, you don't mess with the greatest festival stage ever, do you? Do you? With no wristband exchange in town or even at the Apolo this year we were down here Monday to get them, as the dust blew around the almost-ready site. Yep, dust. You wouldn't have known it had rained earlier, some wild wind was seeing to that. Quite bracing. At this point.
In 2013 it's the Forum Park itself hosting the warm-up. It's still free for everyone tonight – commendable in these days where having a job of any sort is something of a privilege for the younger end of the population – with just two stages running and most of the site still blocked off. And it falls to a local trio to get the party started – also fresh from Great Escape where their late night set was described by one punter as one of the most punk rock things he'd ever seen (I'm still kicking myself for having turned in early, though their Saturday afternoon slot was excellent) Aliment play proper angry spiky punk rock which only occasionally stretches to a fourth chord. Hot on their heels, Bot's drummer has a Jackson Five style Afro about six times the volume of his actual head and is allegedly fifteen years old. His only accomplice is a singer, guitarist and occasional keyboard prodder in pink pyjamas. They've been compared to The White Stripes? Clearly by fuckwits who can't see beyond number of people in a band. They are utterly shambolic, stabbing at blues punk and Pixies indiecore abrasions and some of the time even actually getting there. Both bands are an absolute joy – if this is the start of the warm-up we're surely in for a treat this year. The drummer from Bots is standing next to us for the next band; offstage he looks even younger than fifteen, still has braces on his teeth.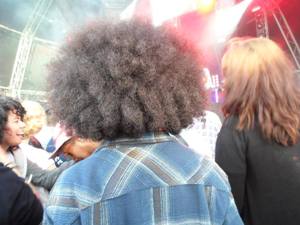 Bot-hair
There's some fairly average noisy boy-girl indie from Guards, decent alt-pop from Telebit ("one of the most important bands of the current independent scene in Colombia") over on the perenially silly looking Smint Stage (we're glad to see the world's greatest sweeties-that-look-like-drugs are still here, presumably that means free sunhats tomorrow) and then it's time for the big one – The Vaccines. Oh no, mainstream pop! Ah, bugger off. I'm no massive fan but I refuse to hate them just because you're meant to. Last time we saw them their gigs were barely into double figures when they hot-footed it across the Irwell from a Walkmen support in Salford to a post-British Sea Power party in Manchester and in one night impressed fans of two renowned live bands, that was two and a half years ago and the songs we remember being great that night – the minute-or-so of perfect fuzzpop that is Wreckin Bar and the rest of what would become their first album – still are. The more recent stuff less so, and Justin Young's gone and got a big beard like pop stars do when they want to be seen as more grown up, but they do the business here.
Following them on are Basque techno-indie fusionistas Delorean whose working of classic 80s and 90s rave influences and samples into a joyous Balearic party goes down a storm. The amphitheatre is well populated by now and a brilliant track that co-opts about half of Black Box's Ride On Time – itself built on a far bigger chunk of oldie sample than most of its peers back in '88 – proves once and for all that pop did indeed eat itself some years ago, and this did it absolutely no harm whatsoever. Irk the purists! The fact that they make it feel like about 3am doesn't, however, detract from the strange feeling leaving before midnight; from our vantage point hotel window over the road we're not used to seeing the Forum Park in darkness. And it's not exactly well served by decent bars round this end of town, unlike Arc de Triomph and Poble Espanol. We can see why they've done this – it makes use of existing festival and park infrastructure as opposed to rigging up an extra outdoor venue for one or two nights, which must be more cost-effective – but it is, as we don't yet know, the first item on a list of things that are still way better then pretty much any other festival but not quite as good as usual.
THINGS WHICH ARE NOT QUITE AS GOOD AS USUAL
Here are three more things which are not as good as usual:
1. The weather. No, the rain hasn't shown up (and will continue to defy its forecast for the duration), in fact look out the window and it looks glorious, but my god, that wind. Walking down to the cafe in the early afternoon sun being blown along by near gale force chill is quite entertaining. Having no respite from it for hours after the sun's gone down really isn't. But hang on, I hear you ask (assuming "you" in this case are a seasoned Primavera visitor who isn't here this year), why not go and have a nice sit down on the ATP terrace, naturally weather shielded and with generally the best individual stage bill of the festival? Well….
2. WHAT HAVE YOU FUCKING DONE WITH THE FUCKING ATP STAGE? The terrace sits forlorn and largely unused, alongside a walkway. There's some sort of cinema projection onto the wall across from it but you could count on the fingers of one hand how many people appear to have any interest in this. It is something do do with our new green-branded sponsor and about as welcome as their nasty chemical brew. (Heineken really is SHIT isn't it? – ed) ATP is now a bogstandard festival stage (physically, that is) in the newer end of the site, specifically next to the massive stage now named after said pisswater vendors. Could be some sound bleed issues there if they're not careful.
3. Inconsequential compared to (1) and (2), but no butties named after bands? Nope, just a couple of burgers: Meat Puppets for the carnivorous and Blur for the non-. Blur? BLUR? Has it got some of that smug wanker bassist's famous cheese on it then? (It hasn't.) On behalf of all Britpop-despising non-meat-eaters, piss off. No burgers for us this weekend.
THE MAIN EVENT
I can't be bothered trying to remember anything about Arbol de Ojos apart from the fact that their name – literal translation The Eye Trees – is way more interesting than their ploddy trad rock, and they're the first band we saw at the festival proper so are worthy of this footnote. We always like turning up early to catch a few of the Catalan (and Spanish and indeed from further afield) bands on the Adidas Originals stage and early slots on the bigger ones: it's the three interwoven strands of Primavera that realy make it what it is. The reunited or still-going legends of alternative music; a hipster-friendly ticklist of new and current acts to rival anyone's; and the stuff you just wouldn't even have a clue about because it is yet to hit international radars, and might not. We take a second pick from the latter lucky dip called El Inquilino Comunista who turn out to be a much better bet, local alt legends from the 90s where their lo-fi, grungey and Mary Chain inflected rock'n'roll would have been a worthy supplement to any record collection of such from the US – but that was before the internet, at least for any use related to music, so we never even heard them. Ah well, hearing them now, and whilst covering No Fun is bordering on cliche it's also the complete opposite of its title. Rounding off this little starter of local talent are L'Hereu Escampa who come from somewhere just north of here towards the French border and make a great two-man racket which doesn't sound like any of the two person band cliches but does sound great, with trebly Wedding Presentish guitar and shouty vocals.
Things that you just really wouldn't want ever to happen: you are the founder of and sole guitarist in one of this year's most talked-about bands, and as ever the talk involves both hyperbole and backlash; you've been gigging for over a year but with your debut album recently released there is a whole new level of interest in you beyond that of the early-adopting brigade and anyway it's a festival so a fair proportion of the crowd may not have seen you before; your first three songs have been well received and the set is picking up momentum; your singer – intense at any time – has got the crowd almost transfixed while your rhythm section – arguably one of the best on the post-punk wing of 21st century indie – are on fire… and then your guitar goes "Sorry, no, had enough now". Shakes its wooden head at every attempt to extract a sound from it, sneers as first cable then amp is changed, and ends up taking over five minutes out of what was only a half hour or so of set to begin with. Gemma Thompson, my heart goes out to you. She and they are of course Savages, and while Ayse Hassan and Fay Milton deserve some sort of medal for the throbbing groove they keep rolling throughout, it's a bit of a blow, and despite their best efforts and some might-actually-be-genuinely-pissed-off laser stares and staccato intonations from Jehnny Beth, it's another couple of songs before the intensity on which the band made their name feels like it's fully returned – and then they've just got time for one more.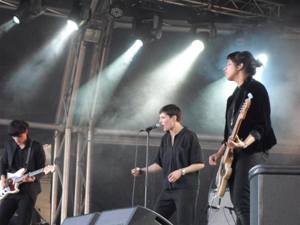 Savages
Tame Impala annoy me. Not for anything (or much) that they have done themselves, just the fact that they are continually referred to as "psychedelic rock" and then you go and see them and no, it's just Rock, plain old nothing-new-here Rock, with some brightly coloured projections that could conceivably be tagged as "trippy" by someone who has never actually been near hallucinatory chemicals. (Cath, you and I shall drink mead and eat sweetmeats together in Valhalla on the strength of this observation – ed.) And the cool one out of Pond doesn't seem to be with them any more. They've drawn an enormous crowd, though. We know this because we are watching them, and the crowd, from the Ferris wheel, to which they make a decent enough accompaniment. They are to rock exactly what Melody's Echo Chamber is/are to pop, as I wrote of the latter at Great Escape "underwhelming psych-lite, though its potential as a gateway drug to shoegaze and full-blown psychedelia for some doesn't go unnoticed." (As this was the only positive thing I could find to say about her, I was kind of glad I don't have a photo byline when I spotted her on the next table at a Barcelona beach bar on Wednesday…)
Anyway if you're going to do alternative rock, you wouldn't want to do it immediately before Dinosaur Jr. Even a man down (Murph, temporarily, couldn't make it apparently) Mascis and Barlow plus stunt drummer make an awesome noise splattered with brilliant tunes from across their lenghty career, from a thrashy little thing they wrote in their pre-Dinosaur hardcore band to their most recent album via things like Feel The Pain and Freakscene that you presume were much more massive hits than they actually were. And Damian from Fucked Up joins them for one, as well. This, upstarts, is how to Rock.
Right, another band I don't get, and I know this is borderline heresy, especially here where they'll eventually play three times, jumping into a high profile slot vacated by Band of Horses' non-appearance before wrapping up the last night at the Apolo – Deerhunter. I've tried, really I have. I love the idea of Bradford Cox, his frequent and well-documented bizarre behaviour, the lovely floral dress hanging off his skeletal frame. The right sonic elements are all there, too; the whole just always seems to be somewhat less than the sum of its parts. We bugger off after half an hour to watch everyone's fantasy rock'n'roll uncle Bob Mould, who's much more enjoyable, followed by one of the greatest triple treats we've seen here or anywhere…
That you know what you're getting with Fucked Up doesn't in any way stop it being outstanding. Damian is on stage for approximately twenty seconds before flinging himself crowdwards; his shirt makes it through maybe another forty seconds. The energy in this man is remarkable, the band tight as ever, the security predictably irritated, the tunes rattling by thick and fast. I wake up the next morning to discover an email confirming that at some ungodly hour I ordered tickets to their Manchester gig two days after we get home, and I'm rather pleased about this.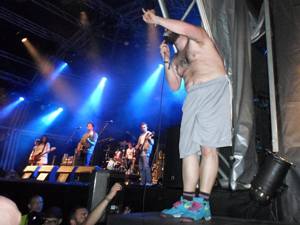 Fucked Up – yeah!
The second punch comes from Iceland via Brian Jonestown in the form of Dead Skeletons, whose deep space mantras and blackened psychedelic trips accompanied by live artwork and projections pretty much preclude sensible description by effectively simulating the effects of several psychoactive substances all at once (and we've not had any); the presence in the band of one Will B. Carruthers also serving to relegate Spiritualized to third best thing involving an ex-member of Spacemen 3. Then an improbable clash-defying dash to the other end of the site allows us the last twenty minutes of Fuck Buttons. It's all new stuff (they may have visited the first two albums earlier, or may not) and they appear to have brought the lighting rig from an intergalactic class spaceship to augment what sounds, right now, like the makings of the best electronic album of 2013.
ANOTHER DAY
We are past being able to fathom out exactly what day. We have an audience with the chair of Reykjavík City Council's committee for culture and tourism.
And whilst dressed in the manner one might expect of a fifty-year-old local politician – smart trousers and a white shirt; jacket and tie soon set aside in the warm afternoon sun – he's also catapulting around the ATP stage shouting I NEED A RESTROOM! PEOPLE FART IN YOUR FACE BECAUSE YOU ARE A SOFA! while a pair of blokes half his age create some seriously warped instuctrial techno and stay out of his way as best they can. Good afternoon Einar Örn – for 'tis he – still fucking nuts then? Good. In indie circles circa 1989 there were two sorts of people – those who dearly wished The Sugarcubes' lovely records weren't plastered with the erratic rantings of the nutter off the nightbus, and those who would still two decades later wish someone would inject a bit of lively insanity into Bjork's output. (Me. Ed) You may be waiting a while for the latter, though, so why not enjoy Ghostigital – Einar certainly seems to. "WE CAN HAVE SAFE SEX! STICK OUT YOUR TONGUE!" – er, no thanks mate if it's all the same with you, but an absolute delight to watch for the few hundred people that bothered. Suspect there might have been a few more turn up for la Gudmundsdottir a couple of years ago if she'd not blown the festival out.
We are glad we are among them, not least because the next couple of hours brings something utterly unprecedented to Primavera: a longing to be somewhere else, or for time to get a move on at least. Kurt Vile makes a decent enough accompaniment to cheese and mushroom crepes without quite being the saviour of rock'n'roll he thinks he is, but the wind is really getting up again now and it looks – feels – like a thunderstorm will happen soon. We weigh up the possibilities: stay dry if not warm, or the heavens open the minute the Mary Chain launch into Happy When It Rains? I guess we find out in a few hours. Merchandise, who sounded fantastic in a sweaty Brighton basement club at midnight just a few days ago, reveal themselves on a bigger stage to be just another 90s alt-rock influenced indie band. Someone had told me Dope Body were good but all I wrote down during their set was "awful", and I've forgotten why. This lull in proceedings would be a lot less annoying if we didn't have to imminently choose between Shellac and The Breeders, or Swans and Goat. before that, Paus get us back on track with "Siamese drums, a bass fatter than your mom and synths that make you feel things". According to the festival guide, that is – they are actually really good though, all twisty and proggy and mathy and hard. And the Primavera house band – that's Shellac, obviously – are brilliant, though more than ever they make us wish for the ATP stage back where it belongs.
It does seem to be getting warmer as it gets darker – or perhaps we're just warming ourselves up. We've secured a good front spot for The Jesus and Mary Chain and the little international community around us is a great embodiment of the Primavera spirit: a twentysomething Korean-American is loudly telling some locals and a Canadian about getting busted for having weed in his car in some state where they don't like it, and having to bail himself out of a potential two-year sentence, while two Norwegians (one wearing shades, and it's definitely dark by this point) are making a reasonable bid on being the Most Drunk Blokes Ever. We, meanwhile, have made the mistake of asking the crowd-crawling backpack beer salesman for two "large" beers. Assuming large means the same here as at the bar. It doesn't, we are 11 euros each lighter, and the "proud" owners of a pair of litre buckets… of Heineken. That's going to make for some fairly scary sensations later.
The Jesus and Mary Chain are fucking fantastic. No, really, seriously, wonderfully ace. John Moore is back in the band and if you don't love John Moore you have not been paying attention. Phil King is back in the band (you know, from Lush, though he was on and off JAMC too), and what shoegaze girl didn't have a bit of a thing for Phil King back in the day? And Jim and William Reid are still Jim and William Reid, they have written more perfect fuzzy pop songs than pretty much anyone else ever, and even better, tonight's set draws heavily from the Automatic album which I've always cited as my favourite and gradually other people are coming round to this opinion even if it has taken more than 20 years. Between Planets about three songs in? Fuck yeah. It doesn't rain during Happy When It Rains. Bilinda from My Bloody Valentine comes on to sing on Just Like Honey. They finish with The Hardest Walk into Taste of Cindy into Never Understand. (Fuck me – ed.) I am officially giddy, even if the effects of downing a full litre of Heineken and jumping about for an hour are not the greatest.
I've managed to restrain myself from battering any of the Blur fans hogging the barrier, though, which is remarkable, though this may not have been the case had I been where Craig was standing; there, they were comparing recent Blur set lists on their phones throughout as if there wasn't actually a bloody amazing band on stage. The turd in the Rollercoaster Tour flowerbed (even before they ad a vewwwy big aohwse in the caaahntraaaay, or Damon got quite so annoying, or the cheese-making cock started hanging out with Jezza Clarkson and David Cameron, or I started feeling quite so sorry for the other two who always seem so nice) there's a certain geeky pleasure to seeing the four bands on the same bill again, but this time I'm not trapped in the (Manchester) Apollo and I don't have to watch them… Swans it is, then. Their first track lasts about 15 minutes and could potentially be described as funeral-paced, were it not for the fact that any funeral going at this pace would take about six months to get from the church to the graveyard. Michael Gira still comes across as deeply unpleasant, but in a good, demonic way as opposed to a smug cheese-farming way. To be honest we'd have liked the chance to immerse ourselves a little more in his dark and brooding vision, but it's time for one of the names that excited us most when the schedules were published: Goat.
Make no mistake, it's all very silly. There are face masks, pointy wizardy hats, lots of dancing, even more percussion, wibbly visuals and – if you were being cynical – the very slight whiff of all those things that happen at festivals but not Primavera like hippies and fire juggling and that. But the music is sooooo good. Exactly how they have managed to weave together the sounds of so many different cultures without coming aross like musical trophy-hunters is a mystery; maybe it's the relentless Kosmische groove underpinning it all, or the infectious wonder that is Run to Your Mama, I have no idea. It's a joy from start to end, though.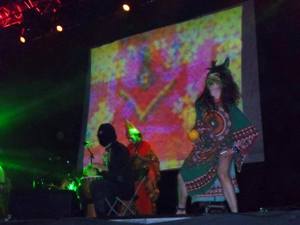 Goat, being silly
Apparently The Wedding Present came on and did a three song set on the Heineken stage before Blur came on. Jealous? A bit. Then not at all. Because rewarding people who are choosing to wait for one of the most overrated bands in the history of everything over watching Swans and/or Goat is a black mark and I like them a little less for it. Wouldn't have missed Goat anyway. We have a bit of a dance to The Knife – whose "live" show does, as recent reviews have sneered, appear to be more a piece of performance art than a "gig" in the sense of people playing instruments. I can see how this might be an issue if you'd paid huge wedge to go and see them at one of their own gigs, but at a hazy near-full-moonlit 4am it does the trick.
THE LAST DAY OF THE FESTIVAL PROPER AND A RANT
Most years the 4pm indoor show is a necessary escape from the blazing sunshine; this year it's a welcome escape from the howlng gales, though we were coming anyway. Pantha Du Prince And The Bell Laboratory performing Elements Of Light – one of the albums of the year to date – completely live. The stage set alone is worth coming for, looking like something out of time, the bell ringers in their formal aprons and the racks and lines of shining domes. If you know the album, you'll know how special this could be and it more than lives up to it. (Now green with envy – ed.) Transfixing, absorbing, stunning. Each peal reverberates perfectly in the stillness of the theatre, each bell crafted to die away quickly or ring on as required; when the cast take to the stairways and file slowly past us each sounding a single pure note it sends shivers. And yet the feel of the music, as Richard Foster pointed out when reviewing the album here when it came out, is not that dissimilar to the wholly electronic work (somewhere between ambient, minimal techno and electrogaze) with which the young German made his name. Had I been reviewing on the go I'd have run out of adjectives and superlatives before he was half way through.
Outside there is sunshine and the brightest of clear blue skies. It's another of those "I can't believe they did that" clash moments, and we are walking away from Nils Frahm… towards Mount Eerie. It's probably fair to say that I am massively in love with Phil Elverum, in a completely non-sexual way that's basically 95% his incredible music and 5% his hilariously demented Twitter presence; 2012's Clear Moon and Ocean Roar battling only each other for my top spot of the year. Accompanied by two bassists and a drummer – all female, all singing – within seconds he's managed to recreate the foreboding beauty of The Place I Live to the point where you can almost feel the clouds passing over, even though today's sky has none. The fragility in his voice; that beautiful ambient black metal guitar sound; the stunning whisper-to-roar dynamics that make listening to the albums such an arresting experience; the sea behind us… it's music to lose yourself in… but hang on a minute, what the actual fuck? Oh, that'll be someone starting their set on the Heineken stage. That potential sound bleed is well and truly and horribly realised. The rest of the set is a battle, possibly rejigged as they go along; there are quieter pieces on both albums that will simply not be possible now. The culprits are Adam Green and some woman with a daft name, and it's not their fault I suppose, they didn't make the schedule nor the layout, but at times it's painful for the wrong reasons. Elverum looks like a man desperately trying to make the best of something that should have been so much better. My heart breaks a bit.
The clear skies darken and tonight it's colder. We shiver through The Sea And Cake knowing we'd have probably enjoyed them more if we weren't. Thus an unexpected consequence of the by now just oppressive wind is that a dire need for an hour's shelter brings an Auditori audience with the face and voice that adorned the first album I ever owned. In 1982 Dexys Midnight Runners took stomping Celtic soul to the peak of the charts and into the homes of children rather too young to get all the shagging references on Too Rye Aye; in 2013 Dexys exist somewhere quite outside any forms of contemporary pop music, mainstream or alternative, but Kevin Rowland gets today's Einar Orn "Still Clearly Bonkers" medal. The show tells a story, utilising the songs from 2012's critically acclaimed One Day I'm Going to Soar, of how Kevin got the girl (co-vocalist Madeleine Hyland) and lost her by being a twat; there are spoken sections, costume changes and the exceptional backing of the many-headed current band. It's one part soul revue, one part West End Musical and several parts Kevin's extroardinary imagination and bizarrely, gloriously captivating. The fact that people like Kevin Rowland and Einar Orn exist at all is a thing of wonder, but rather sobering to those of us who grew up in the immediate post-punk aftermath when all manner of creative oddity was briefly allowed through the floodgates into the mainstream. It's hard to imagine that now, or that they will in two or three decades' time have any equivalents.
It's something of a culture clash to walk straight from that into Thee Oh Sees's mayhem; within seconds of taking our place towards the front at the side I'm crashed from behind, am I being attacked or what? No, it's just a security guard, one of several, wrestling a wriggling fan to the ground. The fan that's just crowd-surfed. Hard to tell who's being more of an arse to be honest, or whether the subsequent brief stoppage is for the crowd or the security staff to calm down a bit, but that aside their punky garage psychedelia's good fun all round. Nick Cave And The Bad Seeds meanwhile turn in a textbook performance with Brighton's favourite Australian crawling all over the front rows (our own Aussie contingent are down in there somewhere and we won't get a word of sense out of them for some time after) and delivering The Mercy Seat with even more ferocity than it had back in the day, which was longer ago than we'd care to think about.
There's a clear moon in a black sky; if only Mount Eerie could have gone on now, but it was not to be. And it's time. The last of the Rollercoaster bands, the comeback kings and queens of 2013; brace yourselves, it's My Bloody Valentine. In 2009, they played two sets here. I'd also caught them twice in 2008, and that initial euphoria was starting to fade. Got my stroppy head on and declared I wouldn't bother with them again until they'd got some new material in the set. Ha ha. Yeah right, said everyone, myself included. And then the bloody did it, didn't they. That February night, documented elsewhere here, when we all collectively gasped. Yeah whatever Daft Punk, all very well Boards Of Canada; Kevin Shields' "oh by the way here's the new album" tactic was the year's best and the album delivered. What we get tonight is a slightly truncated version of the set from earlier this year, and guess what? It's still awesome. Literally. The featherlight vocals and the gathering storm, the sky and the city and the sea and that noise, that all-consuming sound…
We can hardly stand, it's about 4am, we've been out for 12 hours, is that it then? Would be a good way to go out, but hang on, so would watching local post-rock-flavoured techno warriors The Suicide of Western Culture who just happen to be on at half past. Oh go on then, and let's have one last vodka and lemon Fanta (the default drink of the later stages of each night when the idea of any more cola mixers or vile Dutch lager is unthinkable) and dance til we drop. Most of the crowd are probably oblivious to the overtly political and borderline Situationist projections (the duo have, it must be said, toned down some of the more hard-hitting Spanish Civil War imagery that accompanied our only previous encounter) and just dancing their faces off to the twisted oscillations and beats but once you've seen them it gives the whole thing a vaguely apocalyptic feel… and then there's light on the horizon, way out beyond the harbour; the sky lightens and the pre-dawn is breaking. It's five thirty. We wander out, past the amphitheatre still raving a last blast of confetti cannons and lasers, across the lawn of discarded plastic cups on the concrete, and to bed.
WHERE WE CAME IN
Sunday brings the sort of weather the rest of the week hasn't, and mojitos in the park from a man mixing them on top of a suitcase. Violeta Vil are fantastic, dark female post-punk not dissimilar to Manchester's own Pins; Bored Spies rather more indiepop than their pedigree in bands like Bitch Magnet might suggest; Mac De Marco brilliant even if his "fucked up covers in funny voices" bits are probably lost on most of the non English speakers. Somehow we drag our exhausted bodies into Barts and my god are we glad to see those confortable balcony seats. The Orchids sound much as they did during their Sarah Records 80s heyday, though they have considerably less hair; there's a singer-songwriter bloke who's probably very good if you speak Catalan, another band I can't even remember now. We run into some friends from Oldham who have spent the whole week twatted; on the first night they acquired some herbal matter from a man of Pakistani origin who on hearing where they came from, called his supplier to fetch a higher grade of produce on the grounds that they were from the same village as his wife. I'm guessing he's never visited his wife's, um, "village". Come are indeed a perfect finale; Thalia Zedek is still cooler than pretty much any of her surviving contemporaries from the 80s-90s alt-rock scene and their strung-out bluesy grunge-splattered sound has also worn better than most.
Out past the queue for the Apolo, quite relieved we're insufficiently bothered about Deerhunter to try and get in. Onto a Metro scattered with exhausted wristbands; back to the hotel opposite the now deserted Forum Park. We never normally see it like this, we usually do the last night somewhere nearer the station, and it's disconcerting, Santa's Grotto on Boxing Day, waiting to be dismantled, and as ever the clocks are reset. 51 weeks. 50 by the time this finally gets written, and 2014 tickets – on sale ridiculously early – have already been secured. I'm not sure I have ever in my life planned anything quite this far ahead. 2013 wasn't a vintage year, and I for one hope they restore the ATP stage to its rightful position next year, but whatever. I come to the same place on holiday the same week every year, eat in the same cafe (down past the Park Of Weird Stuff) and the same pizza bar (opposite the Apolo); see some of the same faces. Bloody hell, I have turned into my grandparents… but you know, it's good to have some constants in life.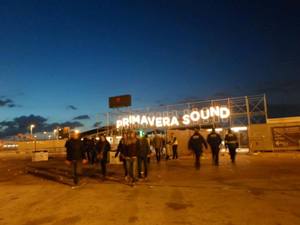 Byee!
It feels like the middle of the night when the alarm goes off.
"What day is it?"
"Monday."
"What do we have to do today?"
"Go home."
Until next year…