You know what the FUCKING WORST thing in the world is? Playing a gig, packing up at 2 am and then driving back the length of the country.

You know what the FUCKING WORST thing in the world is? Playing a gig, packing up at 2 am and then driving back the length of the country.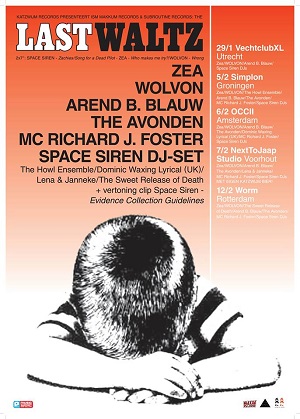 This isn't about me.
Simplon, Groninigen 5/2/15
I'm sat in the back of the van with Aico and Ineke. We're in Alphen aan de Rijn of all places. At a hospital. An un-rock location in THE most un-rock town of all of Holland. We're here to find a Dutch rocker though, Gwen Douglas from AC Berkheimer and – of course Space Siren. Space Siren. Over but not over. Not yet, not for a week at least. We're in this van because of Space Siren. Gwen gets in, we drive off. Groningen bound.
This is the Last Waltz tour, a tour where the surviving members of Space Siren release their last record, Songs for a Dead Pilot and honour and celebrate the late, great Corno Zwetsloot with their closest allies and Next To Jaap confreres; Arnold de Boer (aka Zea and of the Ex), WOLVON, Sweet Release of Death, Marc van der Holst (aka The Avonden), Howl Ensemble and Arend B Blauw. I'm acting as MC and general gobshite during the last three gigs. It's going to be an interesting trip. Primarily because I may be able to understand a bit more about Space Siren though watching these three band members on the road. Even if it isn't the band (how can it be). But I still want a bit of a fix, to join a few more puzzle pieces together for my own satisfaction, however late, however irrelevant. The three of them chat on happily in the front whilst I lounge around in the back. There's a make-do-and-mend, happy-go-lucky atmosphere; and it's so obvious they enjoy each other's company. I look around the van. A cotton hold-all that's slung over the back of the front passenger seat has been scribbled on in felt tip, in a spidery, flowing hand. "Space Siren Scotland Tour" (or words to that effect). A relic of happier times. The rest of the space is taken up by bags, hold alls, coats. We listen into the CDs I brought – preferences are German electro/disco, the gloopier bits of the Jib Kidder LP and garage rock.
We stop, at a service station in the middle of nowhere that Ineke knows, and get a big bag of Haribo and shit sandwiches and shitter coffee and drive through the dark, cold, endless northern wastes. We get to Grun, with a garage CD blasting out. We find Simplon, and it's packed. Surely not for us. Of course not, it turns out we've arrived just when they're opening the doors for a Christian disco. This fact would have tickled Corno. The night starts slow for us, though, despite the venue giving us as much booze as we can neck and Ruben from WOLVON making the best pre-gig quiche ever. (Pre-gig food in NL is about chipping in and helping each other out. A splendid Dutch tradition I feel). You see, there are about 20 people here, and some bloody annoying artists who won't pack up. The girl who's supposed to be looking after the PA can't sort it. I sound weird when I introduce people. It's probably because I've scoffed a pound bag of Haribo on the way here, and sound like I've swallowed a helium balloon.
First up is Arend B Blauw whose fabulously committed, Jacques Brel-esque, Provo sloganeering doesn't do anything for the existential ragtag who've braved it to get here early. Arend B Blauw is too direct, too honest for this lot. Shit, singer songwriters with guitars are supposed to be sweet and sing about running out of coffee or watering your fucking geraniums. Not this onslaught. After this we get a lot of uneasy shuffling into the main hall where The Howl Ensemble play. They are much spacier than I'd expected; a rockist take on Soft Machine's Muse, interspersed with a chunky take on postrock. It's really really good and I normally cannot abide postrock. Watch out for them. Then back to the dreaded cafe for The Avonden, aka Marc van der Holst; who can sing about running out of coffee or watering your fucking geraniums and get away with it because somewhere somehow, he'd subvert the whole thing and make it into a sort of Kafkaesque tragedy. Marc's new songs (about burning down Katwijk's churches and flamingos) are genius. People dig this, they laugh along, and Marc's gentle soul soothes and guides the night down the right path.
Alicia from Sweet Release's video shows in the main room. Some of the Space Siren crowd can't watch it in this public space. I can understand why, as it's a committed and emotional film with some unmistakable, personal parallels.
It time to introduce Zea, whose personal, open handed music is a salve to the soul, and a lifter of spirits. His stuff is so patient and so charming, but every now and then a sharp riff and refrain bubbles up, and he cuts loose, catching people out. His take on Space Siren's Who Makes Me Try is also superb; a minimalist rattle that somehow unlocks a long lost Golem at the heart of the song. It's a perfect warm up for WOLVON, who scorch through the night – opening up their blast furnace doors on a full room (it's Grun, people come late, that's the law). WOLVON are slowly rumbling into a new, harder, tougher, more concentrated phase. No longer Gonzoids, maybe possessing a plan. Well, we'll see more tomorrow and Saturday for sure. I talk some closing nonsense and then we hang out, with our eyes on the clocks, dreading the long trek home.
You know what the FUCKING WORST thing in the world is? Playing a gig, packing up at 2 am and then driving back the length of the country. I don't even have to pack up, and am not driving. I can still see it's the worst thing ever. Even listening to Spyra's last LP on repeat doesn't overcome the boredom of an early morning drive through Drenthe and Overijssel. And just to think there are AUTHORISED SCHOOLS AND COLLEGES in this land that promote a rock and roll lifestyle. Idiocy. Idiocy suspended till tomorrow, in OCCII, a haven in the heart of coldhearted Amsterdam.
OCCII, Amsterdam 6/2/15
Day two. I turn up at Next to Jaap and help load the crates of special beer brewed for tonight's gig. We can take it easy, we're not driving the length of the country, only to the last bastion of hippy Amsterdam, OCCII, a friendly squat-Gothicke venue on the other side of the Vondelpark. We get there, meet the WOLVON lads and set up, and eat another splendid meal cooked by Slow Worries' drummer and OCCII stalwart Nora. We're joined by UK band Dominic Waxwing Lyrical who are back after a hiatus of over a decade, and various members of our travelling band. Arend's family and Marc van der Holst sit around in the upstairs kitchen and chew the fat, whiling away the dead time before the show.
The place slowly fills up and begins to feel less like a setting from Nicholas Nickleby. Corno's brother and sister-in-law are here, adding a solid, resolutely Bollenstreek aspect to the room. You can't mistake people from the unfashionable, or humdrum / workaday parts of the Netherlands. It's in the way they stand. We also clock the great journalist Peter Bruyn and the great snapper Kasper Vogelsang. Elsewhere, a mix of people we really like (such as the crowd round the New YX, who are now doing other things, and in new bands) and wonder at, frankly. There are a number of people wandering round who could only come from the old Overtoom/Vondelstraat squats; Castro hats, keffiyehs, military gear and pants tucked into Doc Martens. Early doors still. Not many hipster types as of yet… luckily.
Arend's a trooper. Taking the early slot takes guts but Arend B Blauw's music trades on guts. That's the point, his songs are the entrails that the seer inspects. A blasting take on his ode to Corno floors most. But the gig is better received here, his impassioned Muse chimes in with Amsterdam's Jordaan-style sentimentalism. Then we get The Avonden. Marc knocks out a brilliant, whispered performance; somehow coming over like a C21st Kabouter take on Vader Abraham. People sway along, totally lost in Marc's mildly bucolic suburban world. And his take on / butchering of the Fall's Paintwork is fantastic. Zea's on home turf and puts together a gig that feels like a review, but a friendly, comforting, reassuring one. Following all of this is Dominic Waxwing Lyrical, who's set conjures up memories of the 80s and 90s. They have this spiky inquisitive sound that has a fair bit of charm and sass about it. There's plenty of squat folk / early Membranes / early Creation buzz in there, as well as some Euro madness (I kept thinking of Sweden's Chronic Heist throughout their set; maybe because they mentioned librarians at one point). Alicia's film is played (seeing it on a big screen is very overwhelming) and then it's WOLVON. I end up jamming with the band on stage, yelling through the noise. Jaap from the Homesick and Yuko Yuko shows up with Peter from Wolf Atlas; fresh from doing De Wereld Draait Door, and bops happily along to WOLVON, who proceed by destroying everything in their wake, their own sound included, as Ruben's bass starts playing up.
Afterwards, in the brief hiatus before packing up, we are surrounded by the deathly-dull, self-regarding hipster types talking about themselves and their problems. Yuko Yuko? So last week. Let's go. Let's fill the van before I want to end it all in a pond in the Vondelpark. Ineptly, I wheel things out and put things in the back of the Space Siren van, only for everyone else to rearrange the gear in a less precarious, more survivable manner. A shorter drive home. It's still stupid o' clock, mind.
Next to Jaap, Voorhout 6/2/15
I'm tired but running off adrenaline. I've got new poems and pieces to share. I need to get to my spiritual home Next to Jaap. I realise that this giddiness is the result of caning it on the previous two nights but… who gives? Turning up at Next to Jaap, I am immediately pressed into service by the ever-cheerful, ever-chatty Alicia from Sweet Release of Death. How she pens these death dramas for her band I will never know. I see her more in the Adult Net mould if I'm honest. No matter; me Ineke and Alicia start adding tinsel and decor and posters to the recording studio-cum-tap room-cum-performance space.
Next to Jaap is a home from home for me. I could easily morph into a Bollenstreek Domovori or Bannik, guarding the beer and keeping an eye on the mixing desk, my new monster shape scaring off nobbers and urban types. There's this musty, backwoods feel seeping through the foundations that I find very appealing. And the beer is great. So great that me & Ruben from WOLVON decide that we should ensure that the new IPA batch brewed for this private party doubling up as a celebration of our absent Big Chief is up to scratch. We get a bit giddy and stick to Weihenstephaner to come down.
We eat another tremendous vegan meal at Ineke's (I could easily get into this vegan touring grub thing) and prepare for a varied and mad night. Tonight Corno & Ineke's daughter Janneke and her friend Terrie Hessel's daughter Lena(one incredibly talented teen) will also play. We will lose it, hang out with the locals and socialise in a comfy, un-rock space that doubles up as one of the most rock places in the Netherlands. "Cosy and comfy" are the night's watchwords at Next to Jaap. You can hang out in a little booth to watch Alicia's video, grab a beer from the impromptu bar, and yak away in the small hallway. Lots do just this all night, now and then putting their heads round the studio door to see The Avonden's intimate, laid back set, and a charming, life-affirming cameo from the two girls. Corno's parents come to watch Arend B Blauw play a brilliant and impassioned set that has a touch of frailty about it.
Shit gets loose with Zea and WOLVON: both playing great sets full of passion, energy and precision; Zea's approach being of the 1000 cuts variety, WOLVON's the sonic Claymore. WOLVON's gig gets very giddy, with dancing and moshing. I flatten my good pal Liú Mottes, guitarist extraordinaire from Blue Crime, Slow Worries and New YX. (The next morning I wake up, groggy, as if dragged from the bottom of a lake, and the first thing I think of is Liú looking wide eyed and winded as my (ahem) big-boned frame lays her out flat on the studio floor. It's cool, she's tough enough to have random pissed English blokes knocking her over. Phew.)
More beer is drunk and everything gets more Sylvan. Next to Jaap becomes a portal to somewhere and nowhere, a nowhere place of feeling and memory. I don't remember going home, though I must have done.
WORM, Rotterdam 12/2/15
Everyone's a bit loose at Rotterdam. Last gig and all, and at hedonist-central, WORM. We gatecrash the grub after spending most of the day looking at art and boozing in the scruffiest bar we can find on the increasingly poncey Witte de Withstraat. WORM is a great place, but sadly one that's losing it's record shop; the business going online. Although it's still there I know that a chunk of my Roffa-going fun has now gone for good.
Slowly the place fills up; and a decent enough crowd is out to see Arend B Blauw. Again, like Groningen, he's too direct for the city existentialists, and after a few tracks of his Sturm Und Drang folk, many find shelter in the bar. But he's very good and doing something unique in these non-confrontational times; and has grown in confidence as the tour's gone on. Now it's time for The Avonden, who joins in my rant about Chips making you slim. As ever Marc knocks out a charming gig with plenty of emotional and intellectual hinterland to explore. You always feel he is toying with his audience, though, and one day he'll explain things to you that have been staring you in the face for years. Oh well. After this, Zea plays possibly his greatest gig of the tour; WORM somehow bringing an extra sparkle to his performance, his fizzy energy and (always positive) spikiness somehow feeling just right, just so. His stripped back, grumbling Space Siren cover is up there with his Leadbelly cover that he did with King Ayisoba a few years back.
Then we get Sweet Release of Death, who seem to be morphing into a dangerously potent mix of Garlands-era Cocteau Twins (without Liz's trilling) and Morricone. They have this smouldering vibe, that snakes through the room like a lit taper. You get the feeling that they are a few, tiny steps away from being a brilliant act; and if they can bring an intellectual and emotional clarity to this sound we'll be floored. Last up is WOLVON who blast all and sundry with their Jotun-like noise. Ceaseless they toil… I join them to do my own Space Siren cover, a MES-Bollenstreek version of Verschwende Deine Jugend. I wreck the mics, MES style. The band carry on regardless, unfussed by my antics and then topping them; making a veritable funeral pyre from Future Truths.
Did we get the train? Maybe. The next day I feel like an empty house. Who'd be in a band?